Sony has unveiled a new series of Exmor RS CMOS image sensors. The range includes the world's first stacked CMOS image sensor. The stacked structure allows the sensor to have a larger surface area in a smaller space giving advanced imaging functionality such as RGBW Coding and HDR video in a smaller component.
The new stacking process does away with the supporting substrate of other CMOS image sensors and the light sensitive area is layered directly on top of the circuitry as in the diagram below. This allows the new stacked sensor design to have a larger imaging surface yet be more compact!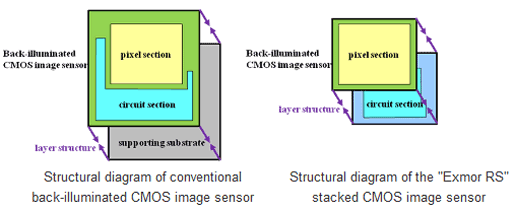 Sony is targeting these new sensor and lens components at the tablet and smartphone market and will launch three new imaging modules equipped with the new sensors. Two of the new modules, IU135F3-Z and IU134F9-Z, will feature RGBW Coding and HDR capabilities. RGBW Coding "can capture sharp, clear images even when filmed or photographed in low light conditions, such as a dark room or at night by featuring W (white) pixels in addition to conventional RGB (red-green-blue) pixels". The modules can also be used to record HDR movies "HDR (High Dynamic Range) movie function enables two different exposure conditions to be configured within a single screen when shooting, and seamlessly performs appropriate image processing to generate optimal images with a wide dynamic range and brilliant colors, even when pictures are taken against bright light."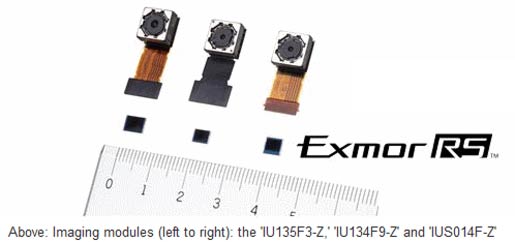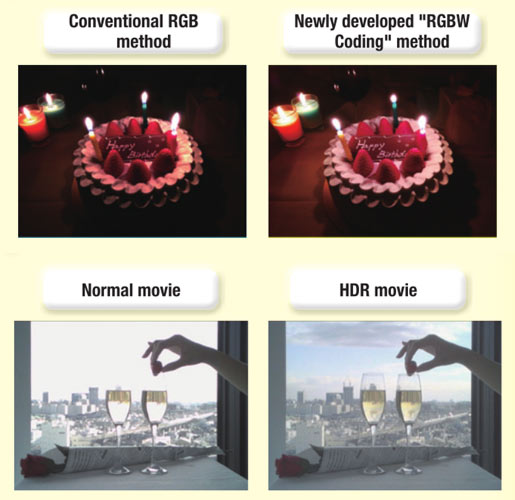 The IUS014F-Z, the third of the imaging modules, "is an auto-focus imaging module incorporating a bright, high-resolution F2.2 lens" but lacks the RGBW and HDR capabilities. This module will be the first to be released, in October this year, whereas the IU135F3-Z and IU134F9-Z will become available in March and May 2013 respectively. All these image sensors "adopt a newly-designed lens which has been optimized for the industry's smallest 1.12μm unit pixel size to achieve higher resolution."
Sony sells about 80 per cent of its image sensors to other manufacturers and both Apple and Samsung flagship mobile devices use Sony imaging components. The new imaging modules are as much as 40 per cent smaller with great new imaging features as mentioned above, this will appeal to mobile device designers. The RGBW feature looks very impressive and will be very popular with users who take snaps in poor lighting conditions.
Please see the table below for the full spec of the new Exmor RS sensors and imaging modules.