World's first digital SLR with continuous live view
Discover digital SLR freedom with the Olympus E-330 - due March at around £900
London, 26 January 2006 – The Olympus E-330 is the world's first* digital SLR camera to feature a continuous live view directly on its LCD screen, freeing photographers from having to peer though the viewfinder and allowing them to be more aware of what's going on around them whilst they shoot.
* As of January 2006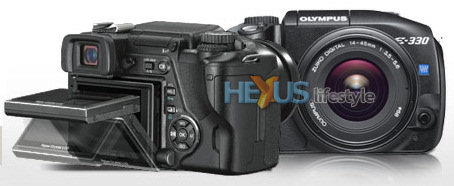 Because the big, 2.5in/6.4cm multi-angle LCD screen on the E-330 can be tilted and swivelled into virtually any position, this freedom even extends to framing difficult shots, as the photographer can set it at the precise angle needed to get the best view – even if shooting over the top of a crowd or from ground level.

As you would expect from Olympus, the E-330 delivers outstanding image quality. This is due to the professional quality of lenses in the Olympus E-System and the latest-generation MOS sensor capturing incredibly detailed 7.5 million pixel images. And to safeguard image quality against dust contamination Olympus's exclusive Supersonic Wave Filter is activated every time the camera is switched on.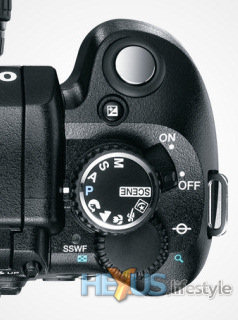 For ultimate versatility, the Olympus E-330 is compatible with the full range of Olympus E-System accessories. It will be supplied with a ZUIKO DIGITAL 14-45mm 1:3.5-5.6 lens (equivalent to 28-90mm on a 35mm camera) and will hit the High Street in March 2006, priced at around £900.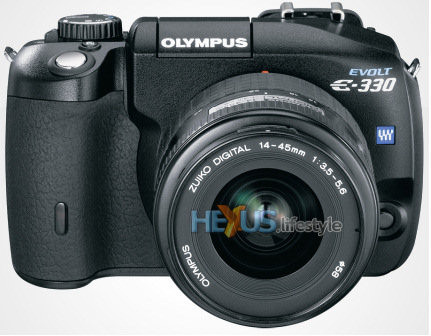 The Olympus E-330 represents a breakthrough in digital SLR photography. For the first time* photographers have the freedom to see their subjects live on a digital SLR's tilting, multi-angle LCD screen. So now macro photographers needn't lie in the mud to frame ground-level subjects, portrait photographers can keep a constant eye on what their model is up to, and underwater photographers will be free to see what they shooting through their diving masks.

Keeping track of the many functions on offer has also been made easy, as the E-330's large LCD monitor displays details of the current camera settings and users have the choice of either viewing more detailed information or just the general settings. The continuous live view on the LCD screen can even have its central section magnified by a factor of ten when shooting macro subjects, so photographers can check that the image is pin sharp.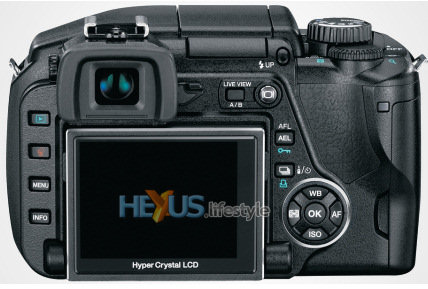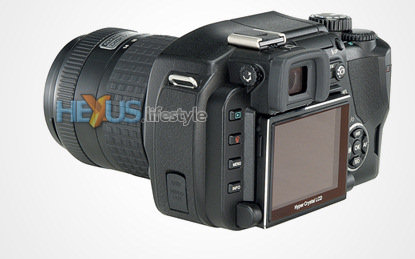 For the very best in imaging performance the Olympus E-330 incorporates a latest-generation MOS sensor with 7.5 million pixels. This type of sensor offers superior image quality, as well as higher sensitivity with less noise. And, to keep it free from dust at all times, Olympus's Supersonic Wave Filter generates ultra-high-speed vibrations each time the camera is switched on, literally shaking the dust off the CCD and capturing it to prevent recontamination.

Photographers using the E-330 are free to choose between saving their photos to either CompactFlash or more economical xD-Picture Cards and files can be saved in JPEG, TIFF and RAW formats. Compatibility with the new Olympus High Speed xD-Picture Cards opens up further possibilities as they provide data transfer rates 2-3 times faster than previous models, and feature a Panorama function, as well as allowing special 3D and art effects to be applied to photos when used with Olympus Master 1.4 software.

Photographers can let their creative impulses run wild with the E-330. The camera features full Manual exposure, along with Aperture and Shutter Priority. On top of these, 20 pre-defined scene modes and seven creative modes have been included to cover most eventualities; these include Nature Macro, two underwater modes and an anti-blur option. The special Live View Boost function is particularly helpful when framing photos in low light as it significantly improves contrast and brightness of the image shown on the LCD screen.

Integral to the numerous exposure modes on the E-330 is a sophisticated light metering system. A 49 area AE sensor provides accurate exposure values for ESP metering, with conventional Centre-Weighted average and Spot metering also available. And for more tricky lighting situations Highlight and Shadow specific Spot metering are on hand to give ultra precise control.

Exposures can be checked using a Histogram function, other pro-level features including AE Lock, One-Touch White Balance, Depth of Field Preview and bracketing functions for exposure, white balance and focus are all geared towards enhancing the shooting experience and ultimately ensuring picture quality. Black & white shooting is also available with the option to select colour filters – as used in analogue photography, to alter the contrast of the sky for example. Finally, when the light starts to fail, a pop up flash can be activated to save the day.

Photographers using the Olympus E-330 benefit from buying into the broad and ever expanding Olympus E-System of lenses and other accessories. These have been designed specifically for digital photography and provide a solution for virtually any photographic situation. And, with the introduction of the PT-E02 in May 2006, this will be extended to include even underwater photography! A full list of lenses can be found towards the end of this release.

With 7.5 million pixels providing extraordinary image quality and continuous live view, this model represents a radical departure in digital SLR design. The Olympus E-330 will be supplied in a kit with a high-performance ZUIKO DIGITAL 14-45mm 1:3.5-5.6 lens (35mm equivalent - 28-90mm), and will be available from March 2006 retailing for around £800.



BACKGROUND INFORMATION



The Olympus E-330 digital SLR – main features:
· World's first* Live View digital SLR with two modes:
· A Mode – Full Time Live View with incorporated AF
· B Mode – Macro Live View with 10x magnification for easy focusing
· 7.5 million pixels Live MOS sensor
· Multi-angle 6.4cm/2.5in HyperCrystal LCD (215,250 pixels)
· Supersonic Wave Filter for dust protection
· TTL Optical Porro Finder design
· Based on FourThirds Standard
· Single AF, continuous AF and manual focusing, plus S-AF+MF and C-AF+MF
· 49 area AE sensor
· ESP, centre-weighted average and spot exposure metering plus high light basis and shadow light basis spot metering
· Professional AE lock functionality
· Sequential shooting at up to 3.0fps
· IR Hybrid Type Cut Filter for equalisation with human eyes
· 1/3 EV ISO steps
· ISO up to 1600
· TruePic TURBO image processor
· P/S/A as well as full manual operation
· 20 scene modes, 7 creative modes plus 4 exposure modes
· Dual slot for CompactFlash/Microdrives and xD-Picture Cards
· Built-in pop-up flash
· User-friendly with detailed and simplified display modes
· Weight: 550g, size: 140x87x72mm
· Compatible with the complete range of Olympus E-System lenses and many accessories, including the FL-36 flash and the ME-1 magnifier
· Available as camera body only or in kit containing camera body, 14-45mm (28-90mm)** 1:3.5-5.6 lens , BLM-1 rechargeable battery pack with BCM-2 charger



Olympus E-System lenses**:


· ZUIKO DIGITAL ED 7-14mm (14-28mm)** 1:4.0
· ZUIKO DIGITAL 11-22mm (22-44mm)** 1:2.8-3.5
· ZUIKO DIGITAL ED 14-35mm (28-70mm)** 1:2.0 (available 2007)
· ZUIKO DIGITAL 14-45mm (28-90mm)** 1:3.5-5.6
· ZUIKO DIGITAL 14-54mm (28-108mm)** 1:2.8-3.5
· ZUIKO DIGITAL ED 18-180mm (36-360mm)** 1:3.5-6.3
· ZUIKO DIGITAL ED 35-100mm (70-200mm)** 1:2.0
· ZUIKO DIGITAL 40-150mm (80-300mm)** 1:3.5-4.5
· ZUIKO DIGITAL ED 50-200mm (100-400mm)** 1:2.8-3.5
· ZUIKO DIGITAL ED 90-250mm (180-500mm)** 1:2.8
· ZUIKO DIGITAL ED 8mm Fisheye (16mm)** 1:3.5
· ZUIKO DIGITAL 35mm Macro (70mm)** 1:3.5
· ZUIKO DIGITAL ED 50mm Macro (100mm)** 1:2.0
· ZUIKO DIGITAL ED 150mm (300mm)** 1:2.0
· ZUIKO DIGITAL ED 300mm (600mm)** 1:2.8



** Focal length equivalent on a 35mm camera in brackets



Specifications are subject to change without notice