Ominous for AMD
Intel's next generation of CPUs has, until recently, been codenamed Nehalem. Last week it announced the official brand name for it - Core i7 - but nobody really knows how it arrived at that name.
The one thing we do know, however, is that it promises to be fast, but until now we didn't know how fast. That all changed when HEXUS got hold of one at IDF 2008. The full story can be read here and this HEXUS.channel summary is meant to be just that.
Core i7 is the latest phase of Intel's 'tick-tock' product roadmap, in which it shrinks the size of the manufacturing process every odd year (so down to 45nm in 2007) and launches a refinement of that micro architecture every even year.
So towards the end of this year we will see the first 'refined' 45nm processors and the big question is: how much of an improvement will it be? Luckily for HEXUS readers, we managed to benchmark one.
The codename for the desktop part is Bloomfield. We got hold of one clocked at 2.93GHz.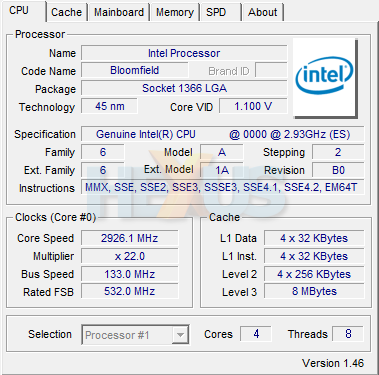 The long and short of it is that, under circumstances where the Core i7 is pushed by the software, it can be a third faster than the $1,399 Core 2 Extreme QX9770.
The scary thing is that, if rumours are to be believed, Core i7 processors could retail for less than $300. HEXUS believes it's unlikely that AMD's move to 45nm - codenamed Shanghai - will be as fast as Core i7. So AMD will find its pricing options constrained by the likely combination of performance and low price presented by Core i7 when it launches.
In short, Intel is not about to relinquish the significant upper hand it has over AMD in the CPU market any time soon.