Introduction
NVIDIA's clearly not happy that AMD is back at, or near, the top of the performance tree - the green team has had a seemingly unassailable performance lead since the inception of the G80-based GeForce 8800 GTX, back in November 2006.

ATI had to leverage two Radeon HD 3870 GPUs on one PCB to ensure that it was punching, hard, in the heavyweight division.

Adopting a tactic that will become pervasive for the high-end sector, NVIDIA is now doing the same - following on in the footsteps of its 7950 GX2 - with the GeForce 9800 GX2, to regain the title of undisputed graphics-card champ of the world.

Let's see if the dual-GPU 9800 GX2 can outmuscle the current champ, and whether it changes the gaming landscape.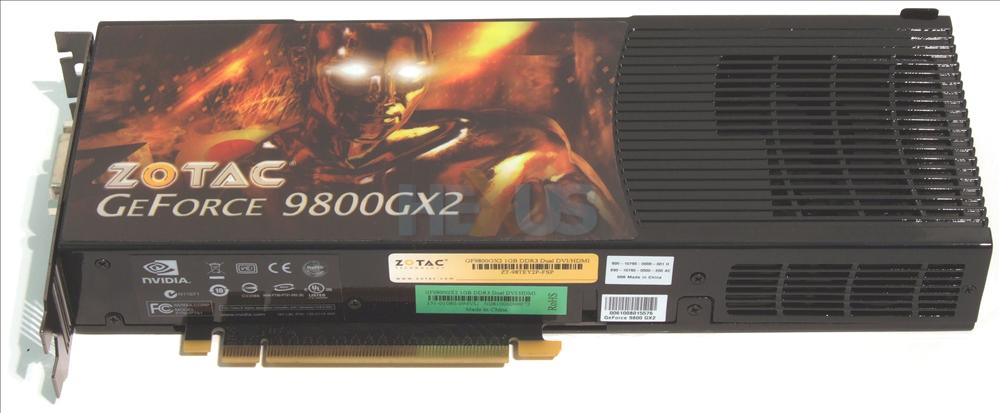 Given the nomenclature, GeForce 9800 GX2, it would be reasonable to assume that the newest GPU would be a technological evolution from the slew of 8-series cards currently plying the mid-to-high-end market.
Rather, the 9800 GX2 amalgamates two GeForce 8800 GTS 512 SKU on to one board, pre-SLI's them, and, really, that's about all.
A mishmash of two G92 SKUs - 8800 GT 512 and 8800 GTS 512
Built on a 65nm fabrication process, the DX10-compliant, PCIe 2.0-based 9800 GX2 is literally two PCBs bundled together. Each PCB carries an identical G92-class GPU which incorporates 128 stream processors, made up of eight blocks of 16 units. That, then, gives it the same per-PCB SP array as the GeForce 8800 GTS 512, 8800 GTX, and Ultra SKUs.
The PCBs, and by inference GPUs, are hooked-up via a PCIe 2.0 bridge that runs at PCIe 2.0 speeds - bettering the PCIe 1.1 for the Radeon HD 3870 X2. Each PCB also carries 512MiB of GDDR3 memory, allotted to each GPU, giving the overall card a 1GiB frame-buffer.

Clocked in at 600MHz per core and 1,500MHz for the shaders, the base clocks are similar to the 112 SP-carrying 8800 GT 512, and a little slower than the 650/1,625MHz clocks on 8800 GTS 512. Having two PCBs, which face one another, and the heat considerations that are implied as a result, we can see why NVIDIA is keeping core- and shader-clocks at GT levels. Note, though, that the GX2's speeds are almost identical to the GeForce 8800 Ultra's.

GeForce 9800 GX2 represents two G92s in pre-configured SLI - give or take a few percentage points.
The physical manifestation of what amounts to two GeForce 8800 GTS 512s - albeit with lower core/shader clocks and a higher memory clock - is a dual-slot-taking card that consumes around 200W under peak load and should benchmark somewhere in the vicinity of two discrete G92 512s in SLI.

There's nothing special at play here, no new, never-seen-before mojo that NVIDIA is bringing to the table. As should be abundantly clear now, but worth repeating in case you've missed it, GeForce 9800 GX2 represents two G92s in pre-configured SLI - give or take a few percentage points.

Priced at around £399 on release, it will appeal to enthusiasts that want, arguably, the fastest (single) graphics board that money can buy. The real bonus, for the money-no-object crowd, will lie in the ability to couple a pair of 9800 GX2s, in SLI, for the rebirth of Quad-SLI, but we're not allowed to talk much about that right now (right, NVIDIA?).