Introduction and the Sapphire Radeon HD 3650 Overclocked
While the majority of the consumer PC press only really gets excited by the high end of the market, the channel has realised that a lot of the money to be made from graphics cards is at the entry level.
So what kind of 2D and 3D performance can you get for just over £50? Let's find out as we take a look at two retail Radeon HD 3650 cards and put them up against NVIDIA's GeForce 8600 GT.
Sapphire Radeon HD 3650 Overclocked
Sapphire is launching an overclocked-out-of-the-box Radeon HD 3650 model that ships with a standard-looking cooler. Clocked in at 800MHz core and 1,800MHz memory, it should provide a >10 per cent performance boost over the reference card.
The cooler, whilst small, does a good enough job at cooling the 378M-transistor core to be quiet enough not to hear over regular system noise. Sure, it's not the quietest around when chugging along under gaming duress, but does the job well enough.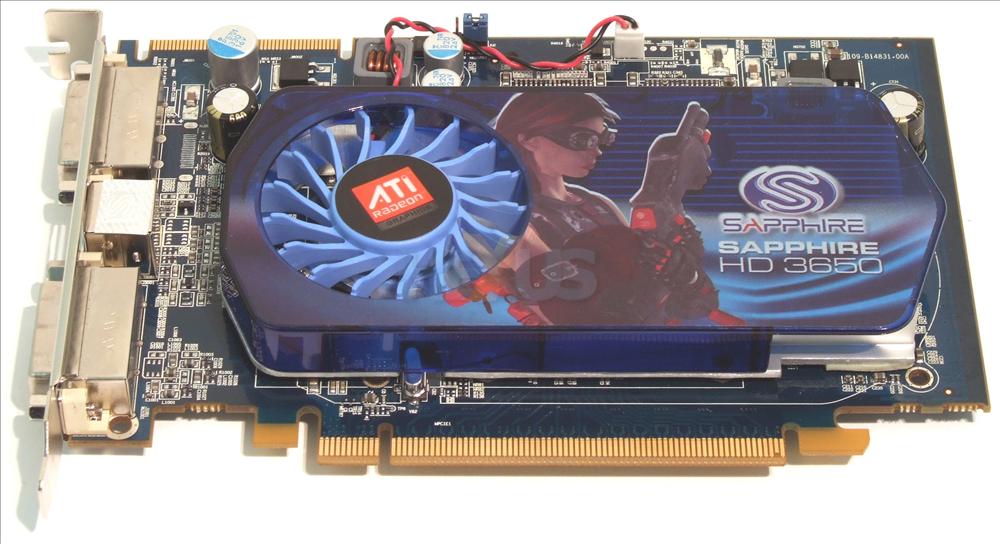 It's clear that ATI was conservative when setting the clocks for the SKU, so has left it to its range of partners to dabble with pre-overclocking.
The cooler, being the same height of the card, doesn't impact on any others cards that you may put adjacent to it. The small-ish size makes it fine for use in larger HTPCs, and Sapphire retails half-height cards with its lower-power Radeon HD 3400 SKUs.
Sapphire has outfitted the card with 512MiB of GDDR3; double the reference amount. This makes implicit sense when factoring in the performance benefits of a larger frame-buffer and just how cheap GDDR3 currently is. The memory is fed through a 128-bit bus.
The card's power requirement is frugal enough to be covered by the 75W offered by the PCIe slot.
Now, manufacturers can differentiate their cards by carrying an eclectic range of outputs. The Radeon HD 3650 SKU offers built-in support for DisplayPort connectivity. Sapphire has opted for the tried-and-trusted twin dual-link DVI, which also act as passthroughs for routing on-board audio, should you wish.
Summary
A single-slot-taking Radeon HD 3650 that benefits from increased core and memory clocks. With knowledge of the 800/1,800MHz clocking, we expect performance to sit alongside the erstwhile Radeon HD 2600 XT GDDR3's.
Bundle:
Items
Sapphire driver CD
DVI-to-VGA dongle
HDMI connector
Multi-language quick-install guide
S-video-to-HDTV-out cable
S-video-to-composite adapter
CrossFire dongle
Chassis sticker

Sacrifices have to be made when choosing a bundle for a ~£55 graphics card. There is no game included, understandably so, but everything else you'll need is present.
All Sapphire graphics cards are backed up by a two-year warranty. Claims in the first year are handled by the supplier from whom the card was purchased from. Claims after this period are handled by a U.K.-based service centre.