Parity at last?
AMD's launch of its 7-series chipsets, quad-core Phenom processors, and Radeon HD 3800-series graphics cards was more than just coincidence. The trio of parts make up what AMD terms the Spider platform, harnessing the qualities of each to provide a hither-to unseen level of performance without costing the earth.
We pitted the as-yet-unreleased AMD Phenom 9900 and its Spider-making parts against an Intel-based machine with similar components. Read on to see which one won out.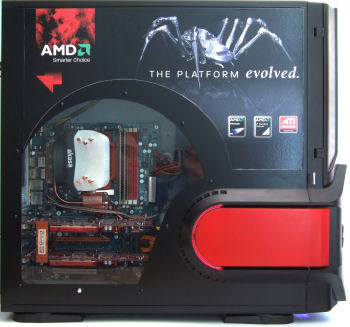 AMD Phenom 9900
We've covered the quad-core Phenom architecture in detail right over here, and we urge to you take a look if you want to appreciate what makes the quad-core Phenom tick along with a better clock-for-clock performance than the dual-core Athlon 64 X2.
The Phenom 9900 is the processor that should have been launched and made available on launch day and should provide the Intel Core 2 Quad Q6700 a decent run for its money.
Our engineering sample Phenom 9900 processor compared with three contemporaries
| | | | | |
| --- | --- | --- | --- | --- |
| Processor name | AMD Phenom 9900 | AMD Athlon 64 X2 6400+ | Intel Core 2 Quad Q6700 | Intel Core 2 Duo E6850 |
| Form factor | AM2+ (940-pin) | AM2 (940-pin) | LGA775 | LGA775 |
| Manufacturing process | 65nm | 90nm | 65nm | 65nm |
| Die size | 285mm² | 219mm² | 286mm² (2 x 143mm) | 143mm² |
| Transistors | 450m | 243m | 582m | 291m |
| Physical cores | 4 | 2 | 4 | 2 |
| Inst. per clock | 3 | 3 | 4 | 4 |
| Pipeline stages | 12 | 12 | 14 | 14 |
| Clock speed | 2.6GHz | 3.2GHz | 2.67GHz | 3.0GHz |
| FSB/HT clock | 200MHz | 200MHz | 266MHz (1066MHz QDR) | 333MHz (1333MHz QDR) |
| Memory support | DDR2, 1066MHz, DC, ganged, un-ganged | DDR2, 800MHz, DC | DDR2/3, 1066MHz/1333MHz, DC | DDR2/3, 1066MHz/1333MHz, DC |
| L1 cache total | 128KiB data + 128KiB code | 128KiB data + 128KiB code | 128KiB data + 128KiB code | 64KiB data + 64KiB code |
| L2 cache total | 2MiB (512Kib per core) | 2MiB | 8MiB | 4MiB |
| L3 cache | 2MiB | N/A | N/A | N/A |
| ISA | x86, x86-64, SSE-SSE4a | x86, x86-64, SSE-SSE3 | x86, x86-64, SSE-SSSE3 | x86, x86-64, SSE-SSSE3 |
| TDP | 125W | 125W | 95W | 65W |
| Operating voltage | 1.3V | 1.3-1.35V | 0.85-1.5V | 0.85-1.5V |
| Current price | £199 in Q1 2008 | £119 | £330 now (£199 in Q1 2008?) | £165 |
But the processor is only one part of the Spider triumvirate. Let's hop on to the AMD-supplied system now. Highlighting the virtues of the Spider platform - which encompass a quad-core Phenom processor, 7-series chipset-based motherboard, and Radeon 3800-series graphics card(s) - AMD shipped us a complete system. Equipped with a Gigabyte GA-MA790FX-DQ6 motherboard, 2GiB of Corsair DOMINATOR PC1066 RAM, and chugging along with an AKASA PowerMax 850W PSU, the system was setup with pre-configured CrossFire via two Radeon HD 3850 256MiB cards.
Bench tests
Chugging through our single-threaded PiFast test that's been around since 2002, we see that the Phenom 9900's straight-line speed is around 20 per cent slower than an Intel Core 2 Quad Q6700's. The two processors may be reasonably matched on clock speeds but Intel has the advantage where just a single core is required to do the majority of the work. The story remains the same as we move on to dual- and quad-core processing. The Phenom 9900-equipped Spider platform is between 10.9 - 17.3 per cent slower than the Intel platform which, by design, includes identical memory and graphics cards. And, unsurprisingly, the situation is mirrored when all four execution cores are taxed to the limit with multi-core-aware CINEBENCH and POV-Ray benchmarks.
Our first three gaming tests tend to focus on system throughput with a single Radeon HD 3850 card set to rendering. The Intel offers on average around 10 per cent more frames per second in these. However, increasing the workload to a graphically-challenging 1680x1050 4xAA/16xAF is a great leveller, bringing near-identical performance for both platforms. And interestingly, the AMD platform's numbers go up by 50 per cent when run in dual-card CrossFire mode, while the Intel numbers only go up by around 10 per cent. The cards are the same and the driver, CATALYST 7.11, is identical on both platforms.
Platform costs
We're basing our platform costs under the rather large assumption that Intel's Core 2 Quad Q6700's pricing will drop to Phenom 9900 levels (~£199) by Q1 2008. With that in mind, the dual-card HD 3850 CrossFire setup will cost around £570 for both platforms, comprising of a £199 CPU; £220 for the two graphics cards; £60 for the 2GiB RAM; and £90 for a quality 790FX or P35 motherboard.
We'd give the nod to the Intel-based platform for everything bar CrossFire performance, and we'd have to investigate its performance further to fully understand why it's performing at sub-optimal levels.
The same subsystem outlay would buy you, today, an Intel Core 2 Quad Q6600; 4GiB PC1066 RAM; an NVIDIA nForce 680i LT motherboard; and heavily pre-overclocked GeForce 8800 GT 512MiB. You won't enjoy the benefits of PCIe 2.0, sure, but we'd hazard that this combination would offer a better overall experience than the NPRP (new product release program) Spider box, outfitted with an as-yet-unreleased Phenom 9900.
Final thoughts
The AMD Phenom 9900-based Spider platform looks fantastic on paper. The CPU's architecture is manifestly better than K8's, the chipset - especially northbridge - is better than RD580, and the Radeon HD 3850s offer a potent price-to-performance ratio. So why don't we finish off with an outright recommendation to buy, then?
The trouble for AMD is that Intel's Core 2 Quad processors, in their present 65nm Kentsfield guise, offer more for the same money. They can be placed on decent-performing Intel or NVIDIA DDR2-supporting chipsets and run with either Radeon or GeForce graphics cards - depending upon choice of core-logic.
The apparent synergy for the trio of AMD parts is compromised by lacklustre processor performance, and there's no easy way around that. You buy the best-performing component for the money and while the Phenoms show promise, Intel is one step ahead.
It all breaks down fairly easily, as far as we're concerned. AMD's Spider platform is a reasonable proposition that fails to fulfil its potential due to an under-performing quad-core processor and, frankly, poor southbridge on the supporting 7-series chipset. AMD needs to be more than reasonable; it needs to be an Intel- and NVIDIA-beater - and it's not.
Put simply, there is no compelling reason why you would look towards a Spider-based platform as your next upgrade. The mix-and-match competition can comfortably match AMD's performance-per-pound right now, without problems, and will only get better as 45nm processors and revised, feature-rich core-logics are released in Q1 2008.
Click here to read the full length review