The latest research about the UK's fixed-line broadband performance reveals that the average UK broadband customer now gets download speeds of 12Mbps. The report, published by Ofcom yesterday, relies upon data gathered during November 2012. (Someone's had a good Christmas break) Overall the figures point to a three-fold increase in broadband speeds since 2008.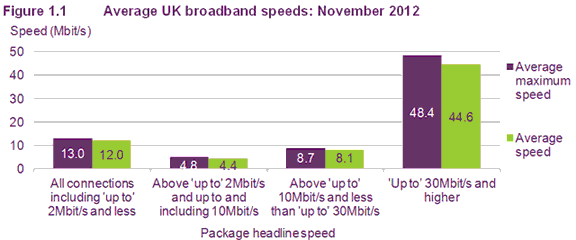 The latest 12Mbps figure is 34 per cent better than figures reported by Ofcom in May last year. However there was one inconsistent result highlighted by the telecoms watchdog; "Average actual speeds recorded in November 2012 were higher than those in May 2012 for all of the connection categories... except 'up to' 2Mbit/s and up to and including 10Mbit/s, where average speeds fell from 5.6Mbit/s to 4.4Mbit/s." The Ofcom report sees two possible reasons for this statistical hiccup; firstly Virgin's double speeds upgrade program and secondly BT's upgrades of its ADSL network. These two factors lift a lot of users out from the broadband doldrums with only the most remote rural areas left behind with lower speeds in these slower categories.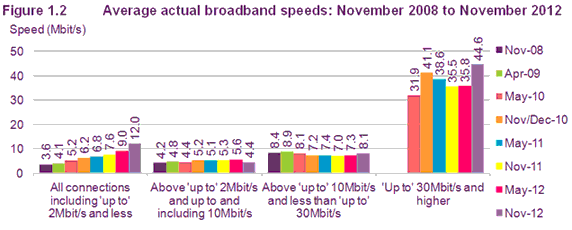 There is an increasing division in the broadband market that has skewed the average download speed figures. Figures show that many customers with the option to go for superfast broadband connections have chosen to upgrade. Ofcom wrote "The proportion of UK residential fixed-line broadband connections that were superfast more than doubled in the year to November 2012". In addition "This migration to higher-speed packages is a key driver behind increasing average actual UK broadband speeds".
The growing number of popular bandwidth hungry services and more connected devices per household were driving forces behind people's wish to upgrade to superfast broadband.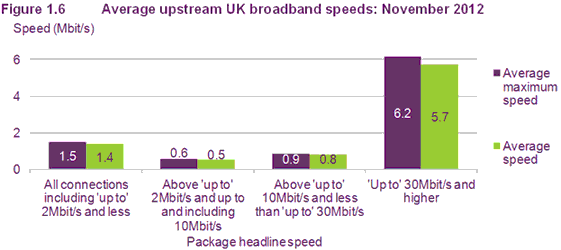 Upload speeds are not often focussed upon by broadband advertising and remain a poor relation to the headlining download speeds. If you are involved in any kind of content creation and/or work from home a peppy upload speed will be of great utility. Looking at the upload speed figures "the average actual upload speed of a UK fixed broadband connection was 1.4Mbit/s in November 2012, 0.3Mbit/s (30%) higher that the 1.1Mbit/s average recorded in May 2012". However as you can see from the chart a large segment of the traditional broadband market have upload speeds lower than 1Mbps.
It seems like a lot of the headlining speed increase averages are just a case of "the rich are getting richer" but it's not about money this is a postcode lottery. The BBC notes that the Community Broadband Network has, this week, put together a report looking at ways to get broadband services to the last 10 per cent of the UK. It asks for government help, to loan cash to communities to create their own network access facilities.