Comet was founded in 1933 as "Comet Battery Stores" and became a pioneer in out-of-town shopping in the 1970s. The company has confirmed that it has plans to call in the administrators next week. This will be the biggest UK high street failure since Woolworths went down the pan in 2008. Comet employs about 6,500 people, operates 240 large sized stores and an e-commerce website.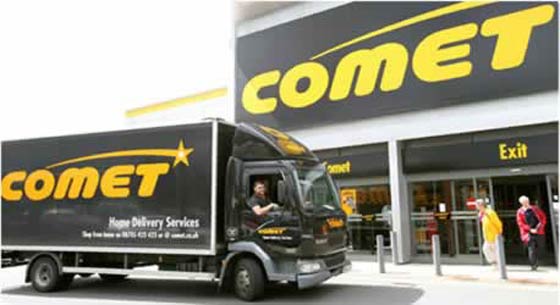 Accountancy firm Deloitte will look at various options for the administration. Comet could yet be sold as a going concern, scaled back (like GAME) or simply liquidated. One of these options is going to be decided upon next week, though no exact date was given. If you have Comet vouchers it is suggested you spend them this weekend.

The Guardian says that Comet was in chaos yesterday as its website crashed and its suppliers arrived to commandeer stock at the stores. Comet chief executive Bob Darke sent an email to staff saying the board is "urgently working with its advisers to seek a solution to secure a viable future".
In the last financial year Comet made a loss of £35 million and parent company Kesa Electricals decided to sell it to venture capitalist company OpCapita for a sum of £2. Without the large parent backing it with credit insurance suppliers were not keen to leave stock at Comet and therefore the range on offer at Comet has dwindled. Not good for a business already struggling.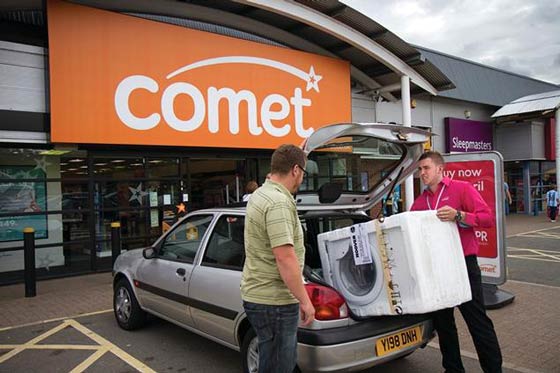 Strong competition from internet retailers and supermarkets stocking a wide range of white and brown goods and computers haven't helped Comet either. Dixons, Maplin and Argos (Home Retail Group) are all quite happy about the removal of another high street competitor of course. Dixons shares hit a 22 month high yesterday, up 14 per cent following the breaking news and have continued to be buoyant today, up 7.5 per cent so far.