We are living through a double dip recession but the Amazon express-success train continues full steam ahead. In the face of high street chain store streamlining and closures by companies who pay a lot of business rates and taxes, online retail giant Amazon is expecting a bumper Christmas season. Demonstrating its seasonal confidence, Amazon has started to hire an astonishing 10,000 extra employees to tide it over the festive period.
Amazon operate eight "fulfilment centres" in the UK and there are seasonal vacancies in all these places; Dunfermline, Gourock, Doncaster, Rugeley, Swansea, Milton Keynes, Hemel Hempstead and Peterborough all have people-holes needing to be filled.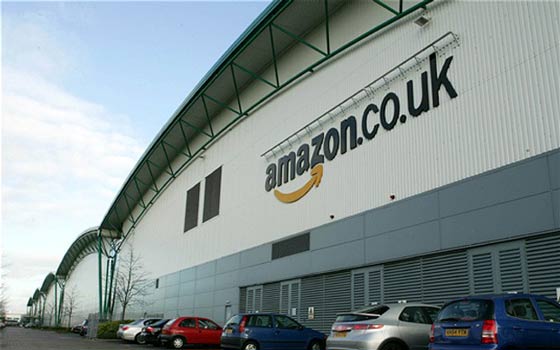 The online retailing giant also has plans to open a further three UK fulfilment centres creating about 2,000 permanent jobs. Computer news site The Register said the 10,000 seasonal workers would get first dibs at the permanent vacancies.
Catherine McDermott, Amazon UK director of operations said "We look forward to welcoming a good number of new faces to our centres [and] welcoming back temporary employees who join us every year. We are a company in growth and when we have permanent positions to fill, it's the top performing temporary employees we look to." The amount of orders coming into Amazon fulfilment centres in the Xmas period is huge; "On our busiest shopping day last Christmas, we saw customers order a total of three million items during one 24-hour period at a rate of 35 items every second" said Ms McDermott. Further stats, unearthed by The Register, reveal that on a busy day last Christmas Amazon UK shipped over 2 million parcels, with trucks leaving its fulfilment centres every 2 minutes and 45 seconds. Beat that Santa...
If you or someone you know may be interested in these seasonal and permanent vacancies, more information and relevant contacts can be garnered here. As with every job in the known universe; "you'll need a strong work ethic, sharp attention to detail and the ability to meet targets in a fast-paced environment".