eBay has enjoyed a bit of a turnaround in fortunes. After CEO Meg Whitman left in 2008 the site seemed to decline in popularity and its only revenue raising plan was to charge more and more and even more sellers' fees. (Actually, they did have another plan – buy Skype for $2.5 billion! But that didn't work so eBay sold 70 per cent of it to private investors for $2 billion. In 2011 Microsoft bought Skype for $8.5 billion.)
Saved by the smartphone
So what has happened to turn eBay around? It isn't by the management's superb strategies; eBay has blossomed again thanks to its popularity on the mobile platform. The online auction site works very well on smartphones/tablets and it's got 13 million active US mobile users compared to second best placed Amazon with 12 million. Also, looking at the latest Neilsen US figures, it can be seen that, on average, users spend a lot more time browsing eBay than Amazon on their smartphones; 1hr 4 minutes compared to 18 minutes respectively.
Proxy war upon Amazon
According to Reuters "eBay Chief Executive John Donahoe and other executives have been telling retailers that Amazon is their enemy, while eBay is a friend because, unlike Amazon, it holds no inventory" While Amazon is a competitor retailer, eBay is a service which matches buyers and sellers. This idea is starting to appeal more and more to traditional retailers who are losing sales to online merchants and particularly to Amazon.
Towards the end of 2010 eBay acquired Milo, a software system that facilitates uploading of retail inventory to eBay's online marketplace. The system shows search results in eBay and also at nearby physical stores. Now more than 50,000 US stores have inventory displayed upon eBay, via Milo, stores including Home Depot, IKEA and J.C. Penney. Retailers would love to sell via their own sites and cut out the middle man but they just don't have the footfall, they don't have the numbers of people browsing their own online offerings.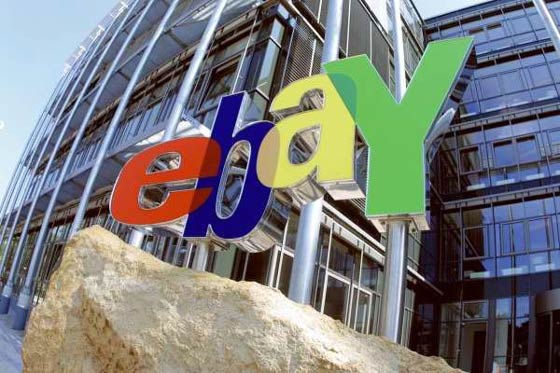 Amazon also allows "partners" to sell via its website but eBay is a "better partner" says Sucharita Mulpuru, an e-commerce analyst at Forrester Research. As to why eBay are preferred by the 100 largest retailers in the USA, Mulpuru suggests "It's the worst-kept secret in the retail industry. When you partner with Amazon, they are looking at your data, learning your business and have ambition to get into every category." However eBay's strength is in people looking for special deals so many stores use eBay storefronts as "outlet stores" for out of season, end of range or reconditioned products.
eBay's latest results are very good thanks to the mobile platform "We now expect eBay and PayPal mobile to each transact $10 billion in volume in 2012 - that's more than double 2011, a staggering surge in mobile shopping and payments on devices that did not exist just a few years ago" said eBay CEO John Donahoe last month.
eBay same-day delivery trial
In a new development and initiative from eBay, the company will be offering same-day delivery in the San Francisco area for products from local stores including Macy's, Best Buy and Target. It's a very ambitious project, especially in a country the size of the US so it's hard to see the service being significantly expanded out of big cities. When a customer buys something they like to have the product right there and then so quick delivery is very important to customer satisfaction. Amazon also recognises this with the Amazon Prime service which offers free one-day delivery to UK subscribers (2 days in the US).