The social media editor at international news agency Reuters has been indicted on three federal charges; one for conspiracy and two for sharing malicious code. Matthew Keys is accused of helping hacking group Anonymous break into computer systems of the LA Times and upload at least one "defaced" web page concerning taxes and the American congress. For his actions Keys faces up to 15 years in jail and a fine of $250,000 for each count.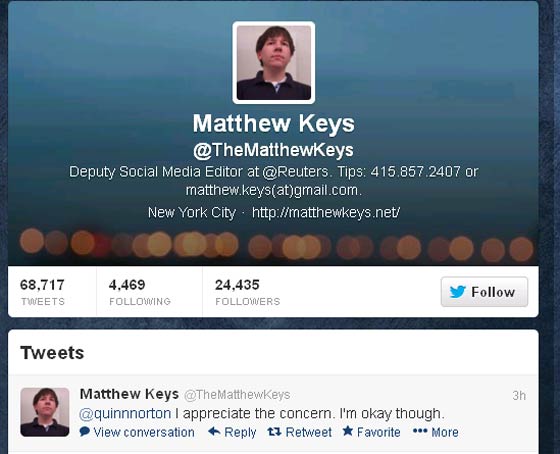 Matthew Keys was a web producer for Sacramento television station KTXL Fox40 until he was fired in Oct 2010. The station was owned by the same company as the LA Times. Keys joined Reuters in 2012 and he was acting as Deputy Social Media Editor at the international news organisation until today. His position gave him control of Reuters news stories sharing over Twitter and Facebook among others.
Uber skid CHIPPY 1337?
The hacking actions under scrutiny took place in December 2010 when he was fresh from being fired by KTL Fox 40. Perhaps he held a bit of a grudge against the parent company which also owns the LA Times. According to USA Today Keys was a frequent visitor to internet chat rooms where Anonymous members hang out. He used his own name on the forums and acted as a journalist participating in discussions.
After the LA Times web site hacking incident there is evidence of an IM session between Keys and hacker "sharpie" gloating and discussing Keys subsequently being locked out of the related publishing system. For further evidence the US feds want Keys to hand over his MacBook Pro, an external Toshiba HDD and other personal property. Incidentally "sharpie" eventually became a leader of LulzSec according to USA Today.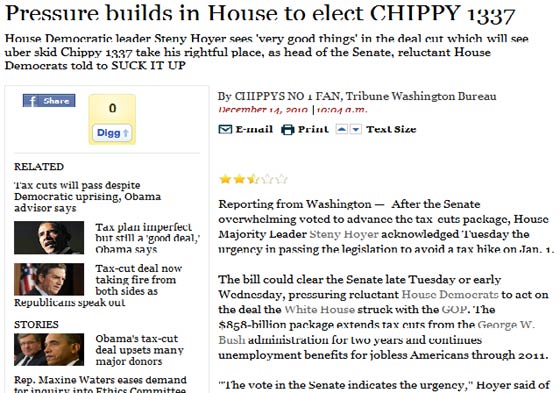 Looking at a screenshot of the LA Times news story hack, my mind boggles over its intended purpose. Mr Keys now faces quite a lot of trouble for his alleged actions in helping this unintelligible hack take place. The hacked story was only visible for 30 minutes on the LA Times site before being replaced.