Google has announced that users of its Chrome browser will be able to use hands-free voice search soon. The feature is enabled in the latest Beta of Google's browser, in testing before it becomes prime-time. Previously users had to install a Chrome extension to get this kind of functionality but it looks like it is now on its way for mass market consumption.
With a new browser tab open, or if you are already on the Google homepage, all a user has to do is utter the tech-magic words "OK Google" and the Mountain View firm will do your bidding.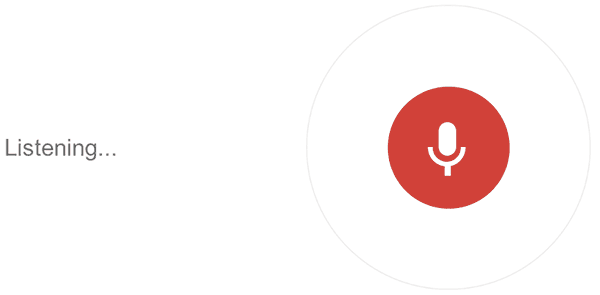 Google suggests this is a great function for when you are baking, for example; "If you've ever tried to cook and search at the same time—say, when your hands are covered in flour and you need to know how many ounces are in a cup—you know it can be tricky. With the latest Chrome Beta, you can search by voice on Google—no typing, clicking or hand-washing required." The only problem is that you will have to open the Chrome browser/new tab/Google homepage with your elbow or similar pointy limb, unless you had thought and planned ahead.
The voice functionality isn't limited to performing searches, answering questions, doing measurement conversions and other such search engine shenanigans. Users can also do other useful tasks such as set a timer; Say "Ok Google, set a timer for 30 minutes", or make a Google Now reminder, say "Ok Google, remind me to pick up dessert at 6pm tonight".
The Chrome blog says that these voice features will start to roll out to English (U.S.) users on Windows, Mac and Linux over the next few days, "with support for additional languages and Chrome OS coming soon". Also please be aware that this functionality has to be opted-in to. Users will have to enable the 'OK Google' keyword listening feature by visiting Google.com, clicking the mic icon at the right of the text input field and clicking a button to confirm "Enable Ok Google."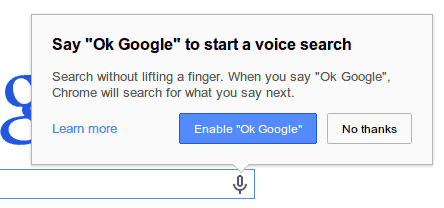 Does anyone already use this feature in the Chrome browser via the optionally installed extension?