Facebook is testing a new button or two which will accompany the famous "like" button. Facebook users in certain territories have been able to click "want" and "collect" buttons upon products from an initial seven retailers including lingerie firm Victoria's Secret and home furnishings and accessories company Pottery Barn.
Less than a week ago we covered a story about Facebook testing another money gouging feature; allowing users to "sticky" and promote their posts for $7 in the US. The "want" button is obviously being tested to help sell products through the Facebook universe. Items that users "want" will be saved in a collection or wish list. Also the wanted item will appear on the users' timeline. Facebook friends will be able to look at your wants/collections/wish list and treat you. Isn't that nice?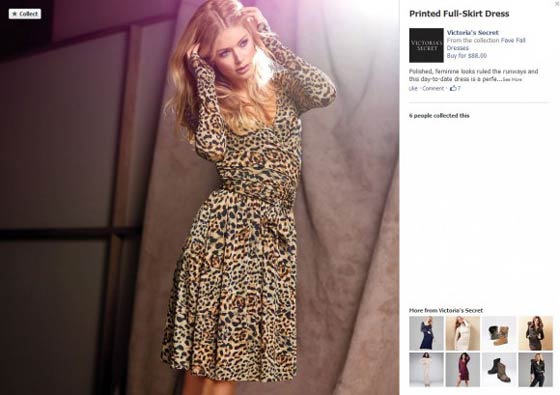 A statement from Facebook mailed to Reuters said "People will be able to engage with these collections and share things they are interested in with their friends. People can click through and buy these items off of Facebook."
PCMag has more details about the mechanics of the test. The three buttons "like", "want" and "collect" are being tested separately, users will see only one of these variants under a product image. "Three distinct groups of users to test each action" said Facebook in an email. Also PCMag listed the seven retail partners as: "Pottery Barn, Wayfair, Victoria's Secret, Michael Kors, Neiman Marcus, Smith Optics, and Fab.com".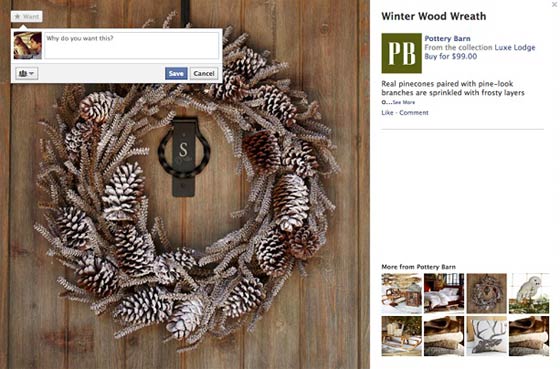 At this time Facebook doesn't get a fee for wish list purchases by Facebook friends. However this is a test and if successful we should assume palms will be crossed with silver when/if the feature is rolled out properly. According to Reuters the "Collections" wish list feature will be gradually rolled out to all US users. When the wish list feature is fully integrated into Facebook and more retailers are on board this could be a great money maker for Facebook Inc. If it happens in the UK I'd like to see a few more gadget and tech retailers participating.