New York tech company Betaworks has signed on the dotted line and bought Digg Inc. for a price of approximately $500,000 according to a report in the Wall Street Journal. Digg was founded just a few months after Facebook and at one time looked to be the biggest source of "social news" on the net. With the sale realised, an actual loss of funds has now been recorded by venture capital backers who pumped $45 million into the company during the seven years leading up to today.
Currently Digg is still a popular social news source with an estimated 7 million unique monthly visitors. The site is considered to have lost its way in tweaking and re-jigging the way it worked unnecessarily and annoying its user base. Digg's main rival with a similar modus operandi is Reddit and to a lesser degree the tech focussed Slashdot. You can see how Reddit has literally taken off as Digg floundered in the chart from Google Trends, below. Other contributors to Digg's decline cited by some writers is the rise of Facebook and Twitter and a change in Google's search algorithms, driving less traffic through the site.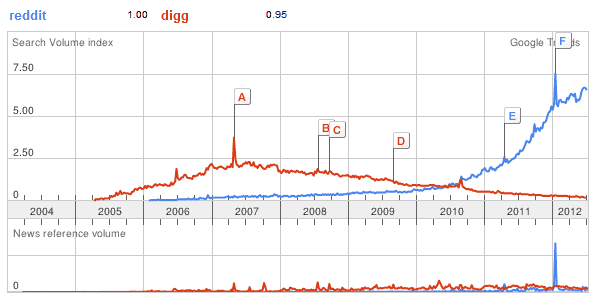 The founder of Digg, Kevin Rose, left the company last year as it continued its slump in popularity. Mr Rose is "now a venture capitalist with Google Ventures". The WSJ says Digg actually received better purchase offers but decided Betaworks had the best recovery plan going forward. Betaworks will merge Digg into a new mobile focussed site called News.me which has good Facebook and Twitter social integration. Though the News.me company is a rather new venture Betaworks has ambitiously valued it as worth between $5 million and $10 million.
In a short statement on the Betaworks blog the company outlines its purpose in acquiring Digg; "We are turning Digg back into a startup. Low budget, small team, fast cycles. How? We have spent the last 18 months building News.me as a mobile-first social news experience. The News.me team will take Digg back to its essence: the best place to find, read and share the stories the internet is talking about. Right now. We are going to build Digg for 2012." To my ears, low budget, small team and fast cycles sounds less like a solution and more like a budgetary necessity.