In the never-ending quest to make search results more relevant, Microsoft has announced a few enhancements for Bing that will help to make scouring the web a little more personal.
The new functions will draw on both a user's location and their search history to try and better pinpoint what someone is actually looking for. So, if you're looking for things to do in London, and you search for 'things to do' whilst in the capitol, you'll be given sites that list popular local attractions, rather than generic, non-specific answers.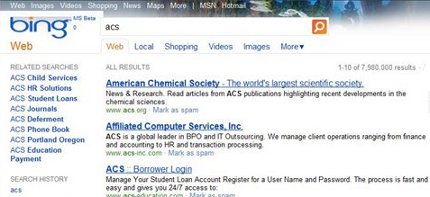 Admittedly this is just an extension of the local search feature, but the developers feel that it has streamlined the process by automatically showing the sites on the main results page.
Bing will also start paying attention to which sites you've visited in the past. In the example that was given, searching for 'acs' will bring up both the American Chemical Society and the American Cancer Society. If a budding chemist repeatedly clicks on the former, it'll be promoted to a higher place in the results the next time he or she does the search.
While search engine enhancements are great, we're not sure how individuals who are sensitive about their privacy will respond to these changes. Apparently, though, the amount of personal information being used is minimal, meaning that even the most paranoid among us won't have too much cause for concern.
The changes are currently only available in the US, but an international roll-out may be on the cards in the future.