Google - via data released to SearchEngineLand - has just accused Microsoft's Bing of 'cheating' by copying its search data in order to improve the quality of its own results.
It started with 'tarsorrhaphy'
Funnily enough, Google caught Bing out by using the same trick that has been the undoing of so many high-school cheaters - spelling mistakes. The search-giant's engineers found that Bing's top result for a few misspelt terms were the same as Google's spelling corrected results. Basically, it looked like Microsoft was piggy-backing on Google's hard work by stealing its results.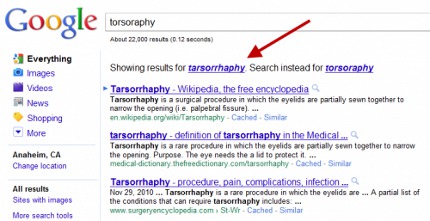 Google automatically corrected the misspelt search term, returning the correct results
Apparently, both Internet Explorer 8 and the Bing Toolbar report browsing data back to Microsoft, which is then used to improve Bing's results. Google managed to test this by modifying the search algorithm to link nonsense words or random strings of letters to specific, unrelated websites. When the same string returned the same page on Bing, the engineers at Google knew something must be amiss.
Of course, the search results aren't identical, but it seemed apparent that Bing's answers were becoming very 'Googley', especially for more obscure terms.
Bing didn't correct the spelling (which is why it only found four results) but still found the same Wikipedia entry as Google
Ian Fleming would be proud
Interestingly, though, Microsoft hasn't really denied these claims. Although a spokesperson flatly told ZDNet that "we don't not copy Google's results", a more detailed statement explained that the decision engine used more than 1,000 'signals' and that a small amount of data was 'clickstreamed' from users who opted-in to share data via the Bing Bar and IE. On one hand, tracking (consenting) users' browsing habits to improve search results makes sense and certainly isn't illegal, but Google has still labelled it as cheating.
Bing's Harry Shum went on to chastise the search-leader for "a spy-novelesque stunt to generate extreme outliers in tail query ranking" that, while creative, doesn't really prove anything that the company doesn't readily admit.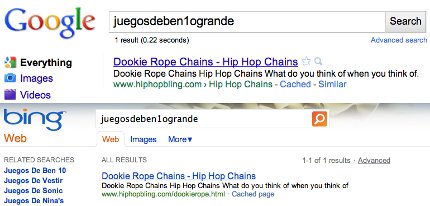 But is it cheating?
The folks from Mountain View are having none of it though. They have stood by their original assertion that Bing is pulling search results from Google and that - in their opinion - is cheating.
As a parting shot, Google Fellow Amit Singhal pointed out that "Bing results increasingly look like an incomplete, stale version of Google results-a cheap imitation," adding that the he "[looks] forward to competing with genuinely new search algorithms out there-algorithms built on core innovation, and not on recycled search results from a competitor".
So is it cheating? That all depends on your point of view. Bing is improving the service for its users by learning from how they browse, even though it means that some data is taken from Google. It's a smart tactic, but it's undeniably making use of Google's hard work to try and gain a competitive advantage - or at least a level footing. Why not let us know your take in the HEXUS.community.