Google has announced a major refresh to its web-based Google Docs office suite through the introduction of new document, spreadsheet and drawings editors.
The freely-available updates, currently offered as preview releases to users who opt in, introduce a number of new features with an emphasis on collaboration and improved performance.
Said to be built using an all-new underlying infrastructure, Google's document editor now offers support for real-time editing for up to 50 concurrent users. Using a Google Wave-like implementation, the document editor shows character-by-character updates in real time, and a completely revamped commenting system has been implemented to aid the collaboration experience.
Document presentation has been improved via the addition of tab stops, a margin-adjusting ruler and support for floating images, and a commonly-requested feature - inline spell checking - also now features as standard.
Google's spreadsheet editor, meanwhile, sets about on improving all-round responsiveness.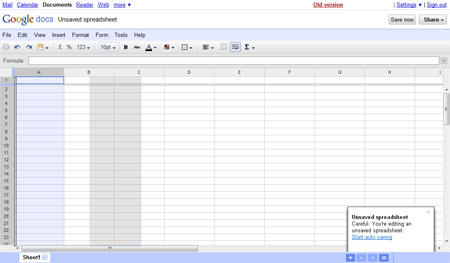 In addition to promising "significant" performance improvements, the spreadsheet editor also offers real-time collaboration and a number of new enhancements. These include a dedicated formula bar, the ability to drag-and-drop columns and support for auto complete.
Last but not least, Google has also converted its Insert Drawing Tool into a dedicated standalone application dubbed Google Drawings. Designed for professional use, it allows users to create and collaborate on graphics such as charts or diagrams - all of which can then be imported into Google's other applications.
A healthy set of new features ahead of the launch of Microsoft Office 2010, but Google's new underlying infrastructure does carry a caveat; the new document, spreadsheet and drawings applications don't support offline access via Google Gears. Google states that it plans to re-introduce offline access via HTML5 at a later date, but there appears to be no interim solution.
A deal breaker for those who rely on offline access, perhaps, but a noteworthy update for everyone else. We've spent a few minutes toying with Google's new spreadsheet editor, and there's certainly a notable leap in performance.
Google's revamped applications can be accessed via the "New Version" tab at docs.google.com. Want to see the apps in action? Check out the Google-provided video demonstration below.