Microsoft has given its online mapping tool, Bing Maps, an overhaul with the introduction of its latest Silverlight-powered beta.
Available at bing.com/maps/explore, the beta introduces a number of new features including Streetside, Photosynth, an Enhanced Bird's Eye View and an Application Gallery.
Streetside, a tool not-too-dissimilar to Google's existing Streeview, finally introduces road-side imagery to Microsoft's service, but is currently only available in a selection of U.S. cities. Nonetheless, it's visually impressive - as is Bing Maps' new Birds Eye View, complete with 3D modelling and a surprising amount of detail.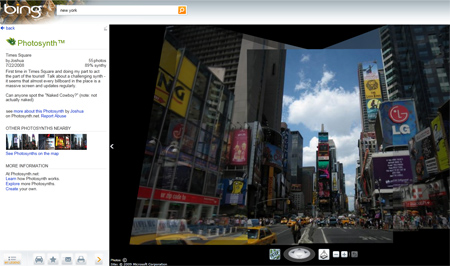 Also new to the service is an application gallery for "mapplications". The current selection of applications include What's Nearby, an app detailing local attractions, Twitter Maps, an app placing real-time Twitter updates on the map itself, and Photosynth, allowing users to view 3D user-generated imagery.
It's an impressive feature set, and I've just discovered somebody Tweeting from across the road. For those who love online mapping technology, it's worth having a browse to see what Bing Maps has to offer. Want to know more? Here's Bing Maps architect Blaise Agüera y Arcas providing a video tour of just a few Bing Maps features: