Phones with attitude
Taiwanese smartphone giant HTC has announced a strategic investment in Beats Electronics - the company behind the Beats by Dr Dre audio brand. The investment represents a gamble by HTC that quality audio can be a differentiating factor in end-user smartphone purchasing decisions.
Dr Dre is a rapper and music industry exec who has been a major player since the days of NWA and Death Row records. He runs Beats with Geffen exec Jimmy Iovine, and has been collaborating with technology companies, such as HP, for some time. Both can be seen in the image below with HTC CEO Peter Chou.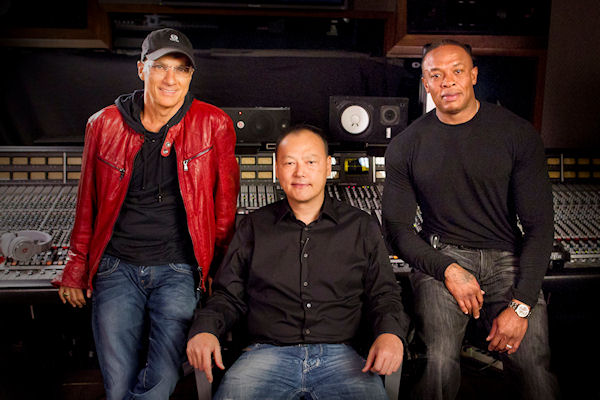 "Beats has found a unique way to harness popular culture in a manner that is unlike any other brand today," said Chou. "It's an exciting brand that has been built around providing something very special, and we believe our strategic partnership will provide customers with unbeatable sound on HTC phones. We obsess over every detail of a consumer's mobile experience and audio is a critical part of that experience."
"The HTC and Beats by Dr. Dre partnership is an opportunity for two world-class companies to redefine the smart phone industry and define the future," declared Iovine. "For Beats by Dr Dre, this represents a critical step in our continued mission to clean up the destruction of audio caused by the digital revolution; and reengineer how sound is delivered so that the consumer feels the music the way that the artist intended."
Iovine seems to be referring to the move to MP3 files, which make some concessions in quality in order to keep the files at an optimal size. The feeling is that we no longer consume 'quality' audio, and this is something that needs to be addressed.
The smartphone revolution is seeing a wholesale shift in the consumption of digital music from dedicated MP3 players to smartphones, and Apple currently has a natural advantage in that area thanks to its iPod and iTunes brands. HTC will be hoping that the addition of a cool audio technology brand to its portfolio will allow it to market HTC phones as the place to go for quality audio.
There is some precedence for this sort of thing. Nokia has invested heavily in camera technology and has emphasised that side of things as a major reason to buy the N8 smartphone. Sony Ericsson has been known to tap the Walkman brand, while Microsoft is keeping the Zune brand on life-support for WP7 phones.
HTC didn't reveal the terms of the deal in its release, but an early report based around an interview with Chou pins the size of the investment at $300 million for 51 percent of Beats.