British chip designer ARM soundly beat forecasts with its latest set of results, published this morning. The headline figure reported by many news sources today is the 44 percent jump in adjusted pre-tax profits. A combination of buoyant demand for ARM's latest processor designs and a strong dollar contributed greatly to this result.
High end brings higher profits
There was good growth in the adoption of ARM technology with 22 processor licenses signed for incorporation into devices such as smartphones, digital TVs and wearable technology. Half of the new licenses signed during Q1 2013 were for premium Cortex-A series processors. These sales bring the company a "higher royalty percentage per chip". Also interestingly, ARM has already sold a Skymir GPU license.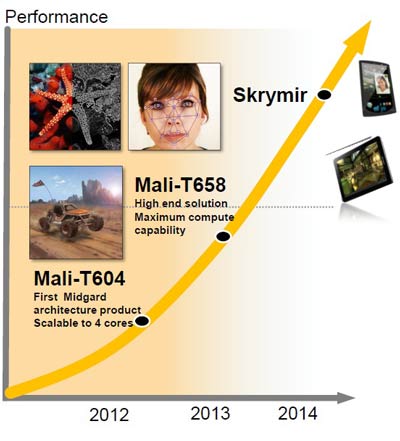 Looking at overall processor shipments 2.6 billion ARM-based chips were shipped, up 35 per cent year-on-year. ARM's Mali graphics chips were also "up more than 5 times year-on-year" according to the results statement.
Accompanying the results was a statement penned by ARM CEO Warren East; "ARM has delivered another quarter of strong revenue and earnings growth, driven by robust licensing and record royalty revenue," he said. He went on to note the strong uptake of next generation processors. "ARM's royalty revenues again outpaced the wider semiconductor industry. This outperformance has been driven by market share gains in key end markets including digital TVs and microcontrollers. In addition, the growth in smartphones and tablets continues to benefit ARM. Even low cost smart devices can contain multiple ARM-based chips and be based on ARM's advanced Cortex-A series technology and Mali graphics processors." CEO Warren East will step down this summer and be replaced by Simon Segars who is currently the company president.
Even though we have the impressive Q1 results in, the firm held its existing guidance for the rest of 2013 saying that full year results should be in line with market expectations. In the latest results currency played an important part in profitability. Reuters notes that ARM collects much of its revenue in US dollars and the dollar has strengthened by about 7 per cent against the pound since the beginning of 2013.
At the time of writing ARM shares were up a tasty 7.5 per cent at 934p per share.