Texas Instruments (TI) has unveiled what it claims to be the "industry's first high-temperature, nonvolatile Flash memory device for harsh environments". The SM28VLT32-HT is a 4MB non volatile flash memory device that can survive extreme temperatures from -55°C to +210°C. It is guaranteed to operate for at least 1,000 hours under such conditions.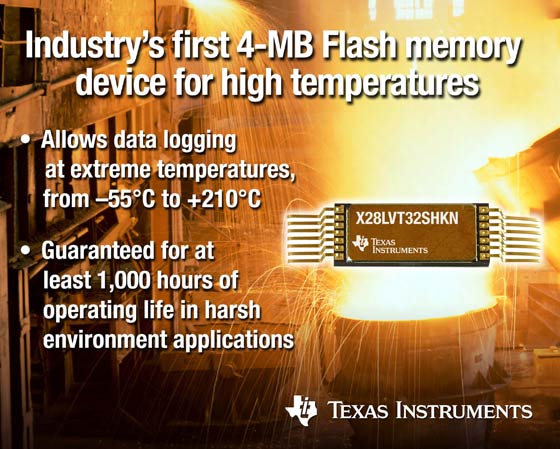 TI foresees the SM28VLT32-HT being used in harsh environment applications such as in oil and gas exploration, defence, medical, heavy industrial, space and avionics industries. The company lists the key benefits of the new flash memory device as:
Widest temperature range: Only nonvolatile Flash memory device qualified to work in temperatures ranging from -55 C to +210 C.
High reliability: Tested across the entire temperature range to provide robust read/write operation over the device's operating life.
Reduced design time: Eliminates the need for external parts allowing manufacturers to develop applications for harsh environments quickly and safely, and cuts development, testing and qualification time by six months.
Small, ruggedized package: Available in either a ceramic flat pack or in Known Good Die (KGD), the SM28VLT32-HT allows small package integration into multi-chip modules for systems with limited board space.
Serial interface: SPI interface simplifies design and packaging, and reduces pin count.
A flash memory chip that survives harsh environments would be of no use on its own, without other such durable components. TI has a "ruggedized" board equipped with the new chip available for testers now. The company also offers a portfolio of electronic products for use in the same harsh environments.
TI recently announced its withdrawal from the mobile processor business to concentrate on "more profitable" embedded markets. It looks like the company is indeed pushing the boundaries at the extremes of embedded applications.