Intel invests $4.1 billion
Earlier today we wrote about the latest big investment by Intel – a $4.1 billion stake in ASML, a Dutch semiconductor company. This investment should help hasten Intel along its roadmap, possibly as much as two full years of development time has been saved. The ASML collaboration will bring smaller process sizes and large wafers into play quicker for Intel, cutting costs and the time to advance chip miniaturisation technology.
AMD revenue forecast reversal
AMD had a sticky Q1 and the Q2 results are due out nine days from now (19th July). However the company has pre-empted the results with a revised revenue forecast statement. The previously forecast rise in revenue has been reversed to become an 11 per cent drop.
Shares in AMD are currently down ten per cent due to the market reaction to the news of "weaker than expected sales". AMD shares have declined over 40 per cent in value since March. Soft demand for AMD parts is blamed for the decline. The pre-results announcement statement said "business conditions that materialized late in the second quarter, specifically softer-than-expected channel sales in China and Europe as well as a weaker consumer buying environment impacting the company's [manufacturing] business".
Some news that may offset the weaker demand, for now, is AMD's reduction of operating expenses by eight per cent this quarter. However with the PC market in decline and AMD Trinity APUs still months away from launch for desktop PCs Intel has been dominating the PC market with Ivy Bridge chips and Ultrabook laptops. Citigroup analysts told Reuters that "We suspect second quarter marks the worst quarter of the year (for AMD), exacerbated by the impact of Intel's Ivy Bridge launch". An analyst from JP Morgan added candidly that AMD "will likely remain under pressure due to its low market share and Intel's superior products."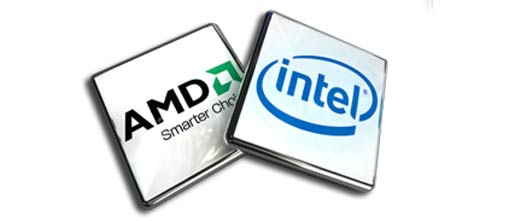 Will the divergence continue?
As above, we know that Intel has been investing seriously in long term plans to get process size down and wafer size up to bring us smaller, faster and cheaper processors. Also Intel has been jealously looking at the mobile triumphs of ARM and is actively developing processors for the expanding mobile market.
AMD has had to appeal more to the value end of the PC desktop and laptop market since Intel's Sandy Bridge chips appeared. The current AMD APUs on offer may offer a useful balance between CPU power and GPU acceleration but haven't snared the public's imagination or budgets. It's good to have a choice of competing manufacturers from whom to buy CPUs and chipsets so we hope AMD can come back strongly and a revived company can compete with Intel more closely in the future.