Use your imagination
The release of the beta of iOS 4.3 - the next version of Apple's mobile operating system - seems to have precipitated a bunch of extrapolation from clues about future Apple mobile hardware, and subsequent conjecture.
On Friday MacRumours spotted a driver bundle in iOS 4.3 called "IMGSGX543". This is a clear reference to the Imagination Technologies POWERVR SGX543 graphics core. The big significance of a move to this core in the next generation of Apple's own A4 SoC (system on chip) over the SGX535 core it currently uses is its multi-core scalability.
We put in a call to Imagination and were advised that, from architecture changes alone, it's reasonable to expect a doubling in the performance of the SGX543 over the SGX535 per core. On top of that, the core is designed to clock higher, be manufactured on a smaller process node, and is scalable up to 16 cores, so the potential increase in graphics grunt of this design over the previous is considerable.
Here's an up to date SGX roadmap. Note the reference to 'Rogue', this is the series 6 major new architecture, which Imagination confirmed to us will launch this year.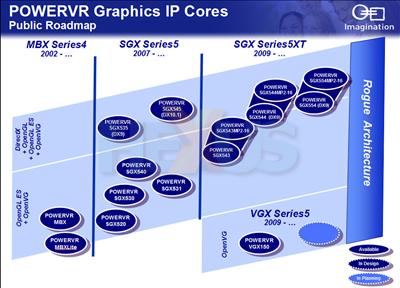 On top of that, the consensus is increasing that Apple is going to upgrade to the ARM Cortex A9 design for the next chip, probably the A5. We had generally assumed this would be the case as this is the year of the dual-core SoC and the Cortex A8 design, on which the A4 is based, is not multi-core capable.
The same Engadget story reckons Apple is making a wholesale shift in its modem supplier from Infineon to Qualcomm. Could this have anything to do with the Intel acquisition?
So we'll have an A5 chip with dual-core CPU and GPU, capable of delivering a lot more processing power than the A4. The question is: what will Apple do with it? Apple Insider speculates Apple will double the resolution of the screen on the next generation iPad, an assumption apparently backed-up by the graphics requirements of a new iBooks app.
The assumption is that both the iPhone 5 and the iPad 2 will run the A5 (we've also seen A8 guessed at), and be able to do all kinds of graphically intensive things easily as a result. We would assume this will mean that Apple will add a lot of 3D sexiness to future versions of iOS, which it will need to do if it's to counter the impending threat of Google's tablet-optimized Android Honeycomb OS.