Tomorrow's tellies
The rate of progress in bringing full computing functionality to tiny embedded systems shows no sign of slowing. We're all aware of the latest generations of application processor SoCs like Snapdragon, OMAP and Tegra, but we can increasingly get everything else in miniature too.
Texas Instruments is one of the companies at the forefront of this sort of thing. Back at MWC it launched a tiny chip designed to bring improbable projector functionality to handheld devices. Today TI has launched the DM8168 DaVinci video SoC, which bundles all the capabilities of an HD multi-channel video system onto a single chip.
Why should we care? For the same reason we care about other SoCs - it promises greater functionality from ever-smaller, lower power devices. In this case, one of the applications will be to provide full DVR (digital video recorder) at lower price, complexity and size. It's built around a 1GHz ARM Cortex A8 core and a 1 GHz TI C674x digital signal processor (DSP) core.
In principle this could allow DVRs to be at the very least highly portable and even built into TVs alongside an SSD. With all the activity around getting full Internet functionality to the TV, this sort of thing could become standard-issue in tomorrow's tellies. Here's a block diagram from TI showing how a DVR would be set up around the DaVinci.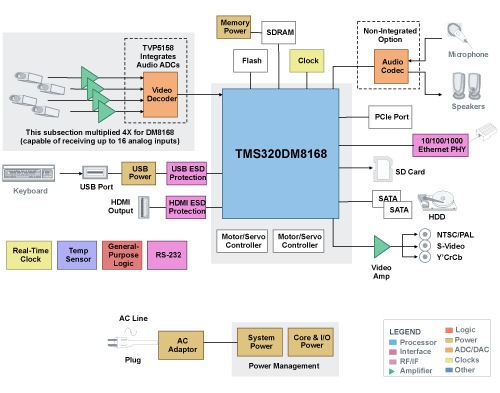 Other proposed uses for the chip are video surveillance and video conferencing products. TI has also launched the DMVA1 SoC, which features a co-processor that offers entery-level video analytics like people counting and intelligent motion detection. In a busy week, TI has also launched a two-channel SATA 3-Gbps redriver and signal conditioner and a tiny DC/DC step-down converter.