Collision course
Drowned out by the drama of the record fine it received from the EC, Intel has been trying to draw everyone's attention to its roadmap for the low power processor market.
Intel seemed to take even itself by surprise with the success of its Atom processor, popular as much for its low price as its low power consumption. But now Intel's increasingly insisting that Atom was just the first in a generation of CPUs, with the target market being smartphones rather than netbooks.
Atom is still too big and uses too much power to be used in a device like a smartphone and currently the majority of them run on processors based on designs licensed from UK company ARM.
Intel is on a collision course with ARM in the smartphone space and, while it's playing catch-up in terms of low power CPU design, it's banking on people wanting to replicate their PC experience on their phone as a reason to use its processors rather than ARM ones. For this reason it's tring to bring attention to the benefits of sticking with Intel architecture (IA), as opposed to ARM.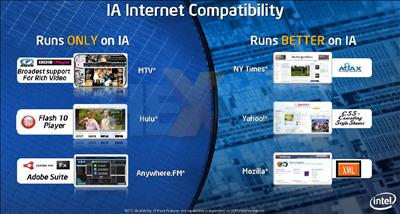 The next iteration in the smartphone roadmap is the Moorestown platform. At its recent 2009 investor meeting, senior VP of Intel's ultra mobility group, Anand Chandrasekher gave an update of the low power processor roadmap.