We've just started to see the first laptops arriving equipped with the Nvidia GeForce GTX 1060 GPUs installed, as in yesterday's news of the new Alienware 13. What if you were interested in a gaming laptop but your budget wasn't quite that big? Well it looks like Nvidia and laptop making partners are already preparing and testing machines with GeForce GTX 1050 Ti GPUs. A new report published by LaptopMedia.com (LTM) claims to have put such a laptop through benchmark tests and also offers up the "detailed specifications" of this graphics component.
The purported Nvidia GeForce GTX 1050 Ti for laptops specs are listed as follows:
Base core clock: 1490MHz
Boost core clock: 1624MHz
CUDA cores: 768
Memory bandwidth: 112.1GB/s
Memory type and size: GDDR5, 4GB
Memory interface: 128-bit
ROPs / TMUs: 32 / 64
Supported Technologies: OpenCL 1.2, CUDA 6.1, NVIDIA PhysX, DirectCompute 5.0
The headline news is twofold. First of all this laptop-installed GTX 1050 Ti has higher clock speeds than the desktop standard part. Compare the above bullet pointed speeds with the reference desktop core clock base / boost speeds of 1290MHz / 1392MHz respectively. Secondly, in LTM tests using 3DMark Cloud Gate, Fire Strike and Unigine Heaven 4 the new laptop equipped GPU convincingly outclassed mobile GPUs from previous generations. It easily powered past GPUs we would expect to be equipped in much higher price bracket gaming laptops. Check out the synthetic test results table below: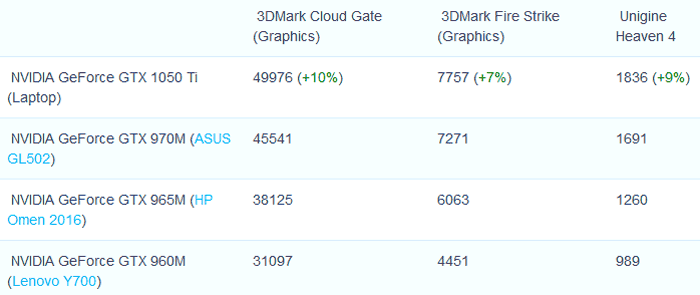 It will indeed be interesting to see how keenly gaming laptops, fitted with the Nvidia GeForce GTX 1050 Ti for laptops, will be priced. However, it is likely we will have to wait until near the end of the year, or early 2017, for such products to hit retail.