Nvidia has launched the GeForce GTX 1060 3GB graphics card. As revealed previously the card features not only half the frame buffer of the 6GB variant but a small cut in the number of CUDA cores available for processing. A summary of the key differences is presented below in a table from the Nvidia web site, along with a comparison to the Maxwell GPU powered GeForce GTX 960. The suggested price of the GeForce GTX 1060 3GB is US$199 (£189 in the UK).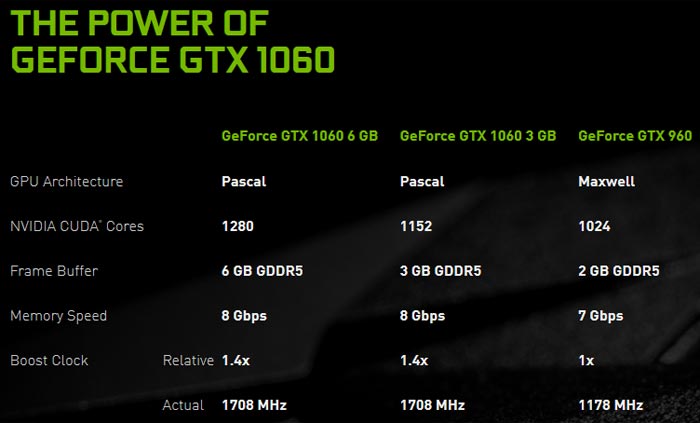 Following the official Nvidia launch HEXUS has begun to receive emails from the usual AIC partners informing us of their GTX 1060 3GB wares. I'm going to provide a summary of these new offerings below.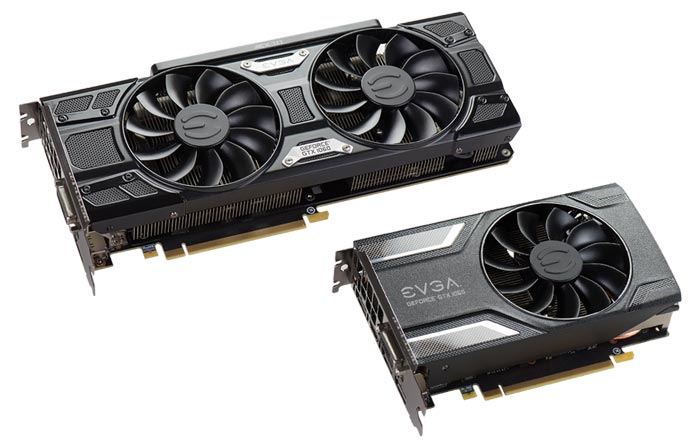 EVGA – 5x GTX 1060 3GB cards
EVGA was quick out of the starting blocks writing to us mid-afternoon yesterday. The Nvidia exclusive AIC partner is offering five variants of the GTX 1060 3GB in various sizes, with a variety of its well regarded cooling solutions strapped on. At the top end it is offering the EVGA GeForce GTX 1060 3GB FTW+ with GPU clocks of 1632MHz/1860MHz and ACX 3.0 cooling tech.
At the other end of the scale EVGA's entry level model is the plainly named EVGA GeForce GTX 1060 3GB with GPU clocks of 1506MHz/1708MHz and a single fan ACX 2.0 EVGA cooler.
Inno3D
Inno3D sent us information about just one GeForce GTX 1060 3GB graphics card it has added to its roster. The iChill GeForce GTX 1060 X3 looks exactly like its iChill GTX 1060 with 6GB. It features the iChill X3 cooling solution as seen in our recent Inno3D GeForce GTX 1070 iChiLL X3 review.
We are told the GPU base/boost clock of the new GTX 1060 from Inno3D is 1569MHz/1784MHz.
MSI - 5x GTX 1060 3GB cards
Like EVGA, MSI hasn't held back in offering as wide a range of GTX 1060 3GB cards as possible. It has designed five cards, variously as part of its GAMING (Twin Frozr VI), ARMOUR (Twin Frozr V) and entry level models. I've reproduced the product matrix table below. All the models use Military Class 4 components.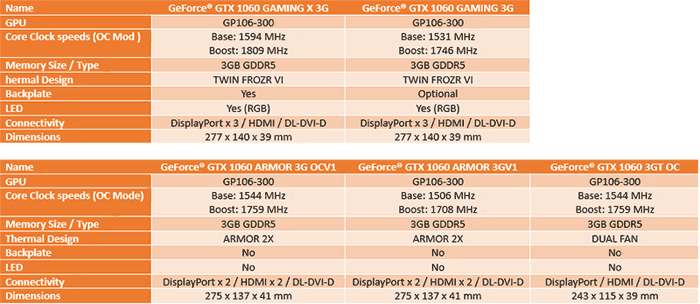 As you can see in the table above, the MSI GAMING X 3G is the fastest of the new offerings boasting core/boost GPU clocks of 1594MHz/1809MHz.
Gigabyte - 3x GTX 1060 3GB cards
Gigabyte has launched the GTX 1060 G1 GAMING 3GB, the GTX 1060 WINDFORCE OC 3GB, and the GTX 1060 Mini ITX OC 3GB. The GAMING model has a 'top notch' GPU as picked by Gigabyte's GPU Gauntlet Sorting technology. It uses a WindForce 2X cooler and 6+1 phase design. Its base/boost clocks in its fastest mode (OC) are 1620MHz/1847MHz.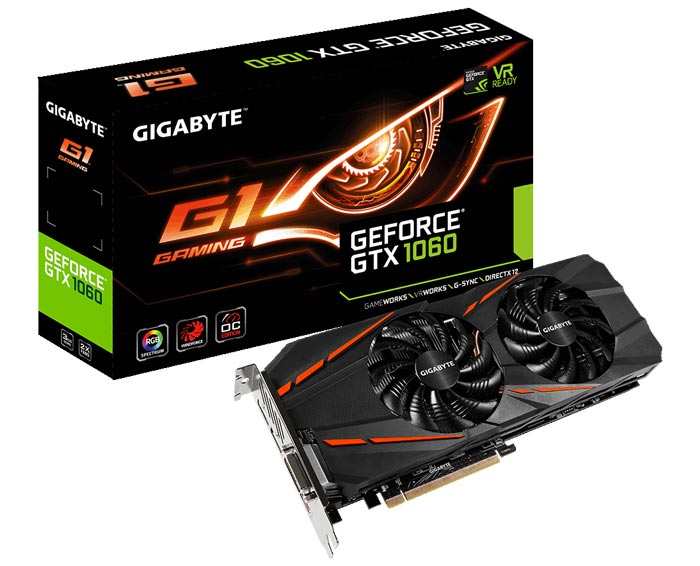 The WindForce OC model uses the same dual fan cooler but a more modest preset range of GPU clock speeds. Last but not least the Mini ITX OC card offers a top present base/boost of 1556MHz/1771MHz. It is "super compact", sporting a single 90mm fan cooler with 3D active fan, and measures just 17cm long in total
Strangely, Asus is yet to contact us with any details of new GeForce GTX 1060 3GB graphics card models. The Gigabyte release only arrived an hour ago so perhaps Asus will send something along soon. After Asus sends it along it will be published in our Press Releases section.