32GB....that's a lot
USB pendrives are designed to fit straight into any USB port on a computer. Most modern drives use a USB2.0 interface for fast read and write speeds.

Thinking of the Corsair model, 32GB may sound like a whole heap of space, and it really is, but a 64GB Voyager drive was announced just last week.

Still, 32GB is cavernous, with enough space to hold a full Microsoft Vista operating system installation, or five full-length, uncompressed DVDs. Hell, it'll even hold around 6,000 mp3s, or 10,000 decent-quality photographs - enough to bore your neighbours with for the next 20 years!

32GB is, in a word, massive for a pendrive that fits snugly into most pockets. It represents top-of-the-line capacity for most manufacturers right now.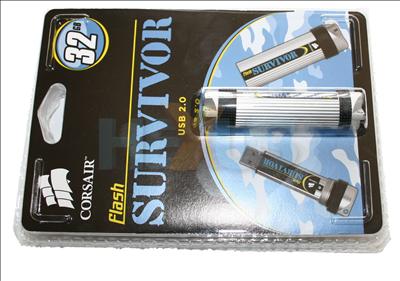 The retail packaging is clear and informative, with the all-important capacity shown in big white letters.

The SURVIVOR series' raison d'être lies in its durability. Available in 4GB, 8GB, 16GB, and 32GB capacities, the ultra-rugged drive is reckoned to be water resistant to 200m, able to be dropped on to hard surfaces, and handle general heavy-handed abuse.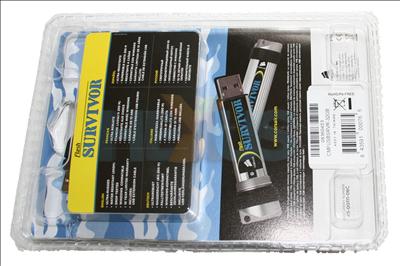 You need to be pretty heavy-handed with the clamshell packaging, however, as it takes brute force to rip it apart, causing the drive, in this instance, to fall to the floor - a first test of its durability. Of course, unlike me, you could be sensible and just take a pair of scissors to it, but where's the fun in that?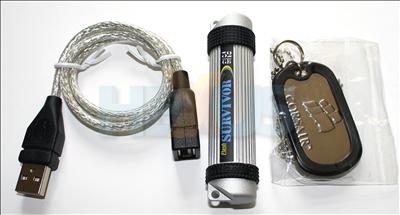 There's scant little inside the packaging, but that's typical for USB-based flash drives. A USB extender cable and Corsair-branded dogtags complete the package. The drive is shown in the centre of the above picture.

Current pricing for the drive is around £79, including VAT, which is around £10 dearer than the Voyager equivalent-capacity model, and some £15 more expensive than the cheapest 32GB pendrive we've seen.