Introduction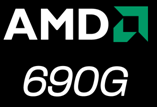 Back in February of this year, we took an initial look at the AMD 690G chipset - the company's first mainstream core logic since the AMD-760 five years ago - and were impressed.
The AMD 690G brought unparalleled display flexibility to the integrated arena, using a class-leading integrated graphics processor with certification for Windows Vista Premium, along with AVIVO video acceleration, HDCP-protected DVI and HDMI output and multi-display support.
And the review motherboard, EQS's beautifully-named AB1S-RS690MKM, was a fine platform for showcasing these talents.
Now we have another pair of contenders, the ASUS M2A-VM HDMI and Sapphire's PI-AM2RS690MHD, each offering a subtly different take on the 690G formula. But will one get it right and the other be left to flounder?