Bundle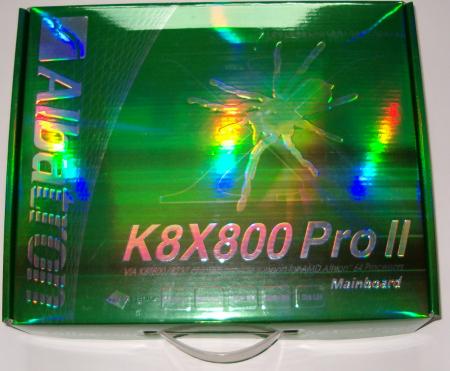 Click for an alternate shot of the back of the box (~27KB)

The box is much less exciting in the flesh, under regular house lighting. The flash on my camera does a good job of showing off its reflective nature though. It's standard motherboard box size with a plastic carry handle. Handy for getting it from the PC World shelf to your car boot I guess.

Opening it up shows you what you get.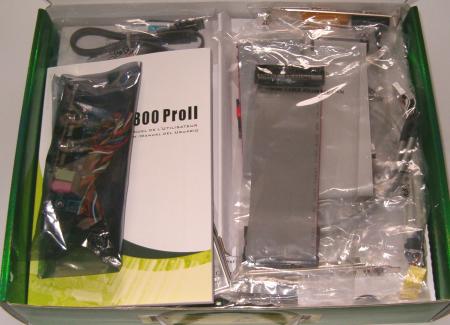 Albatron take a slightly less glamourous route to bundle nirvana than, say, ABIT. No rounded IDE cables are the turn off for me, I'd like to see them as standard in all motherboard bundles that aren't sold on their cheapness. Apart from that, it's not too bad. Two SATA data cables and one SATA power get you started with SATA disk connection. It's nice to see the new ATX 2.03 specification making SATA power mandatory on new power supplies that conform to that spec, but Albatron get you started out of the box.

As far as written assistance goes, you get a hefty manual and an English quick start guide. The quick start guide is excellent in terms of identifying what plugs in where. The manual is well translated and reads well. It's multi language, saving Albatron time and effort in localising their bundle. One bundle to rule them all.

There's also a sticker to affix to the inside of your case that shows board layout and the designations on all the important pin headers. You could easily use it set the board up, without the help of the manual or large paper quick start guide.

The FireWire and USB ports that I mentioned on the previous page are present, along with the audio I/O plate. Here's a shot.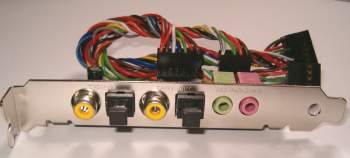 Coax and Toslink inputs and outputs provide the Envy24PT and VT1616/WM8278 combo with digital signals. The ASIC supports full Dolby, DTS and various other digital audio formats and the ports give you useful connection to any suitable processing hardware you might have. There's also duplication of headphone and mic inputs, freeing up the six port cluster on the ATX backplane for full 7.1 duty.

Criminally, like ASUS with their K8V bundles, Albatron supply no floppy disk for the SATA driver. Installing Windows XP without it is a pain in the backside, requiring the use of a second machine to create the driver disk. Bad Albatron, bad. I'm praying it appears in full retail bundles.

That's your lot. Albatron's willingness to keep the cost down means no fancy rounded cables, FrontX bundles or other such finery seen around here lately. Just enough to make use of the board features and precious little else. Not that it's a bad thing, if it keeps the price down, just we've seen the same bundle with a little more effort put in recently.

Click for a shot of the large installation guide (~30KB)