Thoughts, HEXUS.awards, HEXUS.where2buy, HEXUS.right2reply



It's difficult to know exactly what to make of the Radeon HD 2900 XT in May 2007. Had it been released a year ago, when rumours of its existence were rife, we would have been bowled over by its forward-looking architecture and host of multimedia-related features.

But NVIDIA managed to do the bowling in November 2006 and has been reaping the financial rewards ever since - and that's AMD's high-end problem in a nutshell.

The Radeon HD 2900 XT's architecture is sound and ticks off most of the right checkboxes in terms of what we'd want today in a thoroughly-modern graphics card. But NVIDIA has already done that with a number of widely-available SKUs.

This is also the first time in a significant period when either of the discrete GPU heavyweights hasn't announced its brand-new architecture to the beating drum of 'world's fastest graphics card'. The fact is that the Radeon HD 2900 XT simply isn't, and, worryingly, has no scope to be, unless a super-duper-clocked XTX model is waiting in the wings.

Not only does NVIDIA have a broadly similar architecture that has been around for more than six months, it also has, arguably, the two fastest SKUs around - the GeForce 8800 GTX and (priced exorbitantly because it can) the GeForce 8800 Ultra.

AMD's had to revise RRP pricing for precisely these reasons and the consumer will benefit as a result. Thinking now about the card's pricing bracket (£250) and immediate competitor - the GeForce 8800 GTS 640 - AMD does looks better. Its card is late but not late enough to miss the DX10 gaming party which is just about to begin. The HD 2900 XT is also speedy enough to give the GTS 640 better than it receives and should sell well.

Ultimately, the AMD Radeon HD 2900 XT is a good product for £250. The innate problem in launching several months after your competitor is that being only as fast as its third-rung GPU is damaging to a company's prestige.

We had hoped for a GeForce 8800 Ultra-killer. The only killing that has gone on with the AMD Radeon HD 2900 XT is in relation to its price and performance prestige.

Worth £250 of your money, yes. As fast as we had hoped for, absolutely not.

HIS was kind enough to send us a pair of its HD 2900 XT cards. Wait a few short days and you'll see how they stack up against GeForce 8800 SLI and Radeon X1950 XTX CrossFire.


HEXUS Awards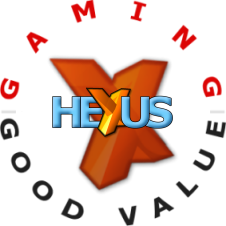 HIS Radeon HD 2900 XT 512MiB
HEXUS Where2Buy
Komplett has the HIS Radeon HD 2900 XT 512MiB listed for a price of under £250 at the time of going to press.


HEXUS Right2Reply
At HEXUS.net, we invite the companies whose products we test to comment on our articles. If AMD's or HIS's representatives choose to do so, we'll publish their commentary here verbatim.


HEXUS related reading
HEXUS.net - previews :: HIS Radeon HD 2900 XT preview
HEXUS.net - reviews :: NVIDIA GeForce 8800 Ultra
HEXUS.net - reviews :: XFX GeForce 8800 GTX XXX Edition
HEXUS.net - reviews :: ECS N8800GTX-768MX
HEXUS.net - reviews :: ASUS EN8800GTS 640
HEXUS.net - reviews :: ECS N8800GTS-320MX
HEXUS.net - reviews :: Foxconn GeForce 8800 GTX FV-N88XMAD2-OD
HEXUS.net - reviews :: ASUS EN8800GTX GeForce 8800 GTX 768MiB
HEXUS.net - reviews :: ATI Radeon X1950 XTX
HEXUS.net - reviews :: Sapphire X1950 Pro Dual 1GiB