Benchmarks - Aliens vs. Predator
The standalone Aliens vs. Predator benchmark uses DX11 features such as hardware tessellation and advanced shadow sampling to draw and animate everyone's favourite xenomorph.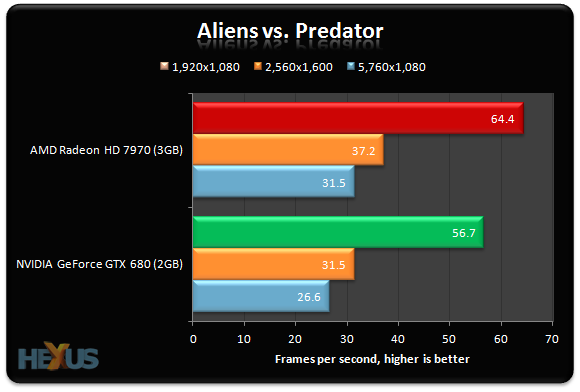 What you're looking at is the performance of the two cards when tasked to render the benchmark at three resolutions - 1,920x1,080, 2,560x1,600, and three-screen 5,760x1,080. The larger load imposed by having to render to three screens is handled pretty well by both cards. AMD's Radeon HD 7970 has the lead at all three settings.
GTX 680 is

1,920x1,080
2,560x1,600
5,760x1,080
-12.0%
-15.3%
-15.6%
As GeForce GTX 680 is very much the flavour of the last month, this mini-table shows its comparative performance at each resolution against the HD 7970.
The gap widens in the Radeon's favour as the resolution goes up to 2,560x1,600. GTX 680 manages to peg a smidge back at the three-screen setting, and there seems to be no clear evidence that framebuffer limitations are coming into play.
But it is not good enough to suppose, we think, and we can actually determine the framerates by looking at the per-second performance through logging the benchmark via FRAPS. These results can then be graphed up to show exactly how each GPU responds to the stress provided by the test.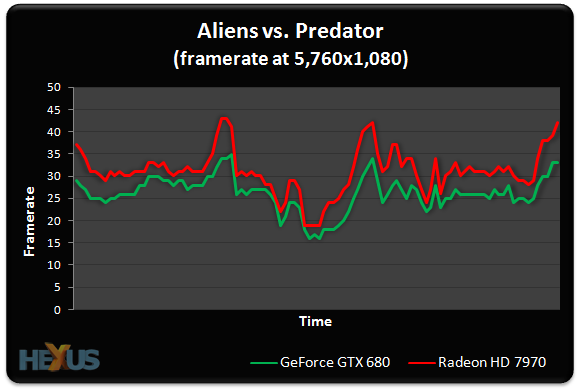 And there go, frame-by-frame performance of the two best single-GPU cards from each company's stable at the three-screen resolution. The two GPUs' performance is understandably similar through the test. There are no huge drop-offs for the 2GB-equipped GTX 680, though it's consistently around 5fps behind, reinforcing the 5,760x1,080 results in the first graph.