Aliens vs. Predator and Just Cause 2
Bear in mind that the default performance of the card is identical to the reference model we reviewed a little while ago. Take a look back to see it compare to numerous other GPUs in the review.
We tested the Sapphire in its OC state, meaning a core clock of 880MHz and memory at 5,000MHz. Interestingly, system-wide idle power-draw rises from 130W to 167W when going from a single screen to three, but what's 37W when there are games to be played?
Just to recap, you'll be looking at the performance from the same Sapphire card. It's attached to three different monitor setups. The highest framerates correspond to hooking it up to a single monitor - a Dell 30in (2,560x1,600) screen. The remaining two figures relate to having it paired up in an Eyefinity3 setup, differentiated by running in either landscape (5,760x1,080) or portrait (3,240x1,920) modes.
Aliens vs. Predator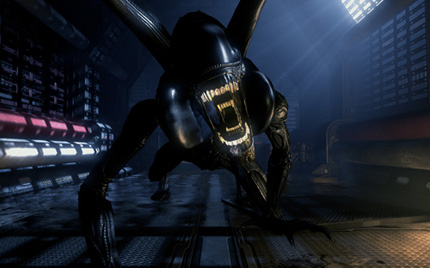 The standalone Aliens vs. Predator benchmark uses DX11 features such as hardware tessellation and advanced shadow sampling to draw and animate everyone's favourite xenomorph.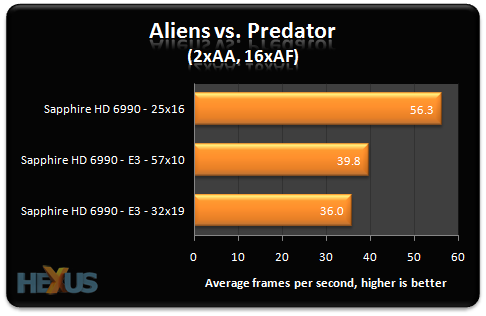 Set to very high quality, AvP is smooth on the Dell 30in. There's a repeatable difference in performance with the two Eyefinity3 setups, which is somewhat strange given that the number of pixels are identical.
The benchmark is smooth for both E3 setups, though, and we reckon it looks and plays much better in the portrait setting; the landscape mode stretches the scene too much.
Just Cause 2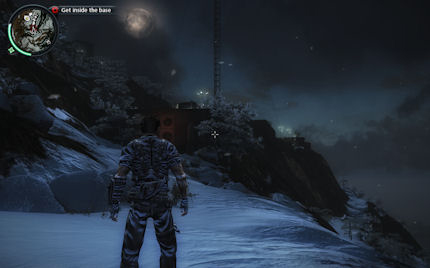 We like this game a lot. Quality is cranked on to very high, giving even this high-end monster pause for thought.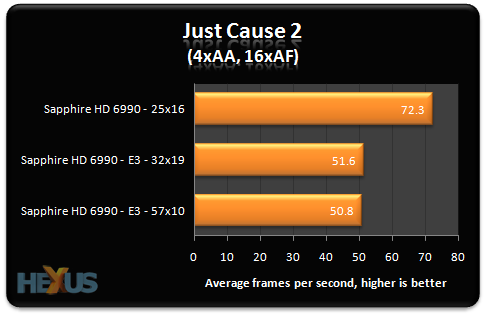 E3 performance is pretty much where we'd expect it to be once the extra 52 per cent resolution - 6.2MP vs. 4.1MP - has been taken into account. Just Cause 2 is smooth at the very-high-quality settings for both modes. Again, we prefer it in portrait.