Conclusions, awards, HEXUS.right2reply


We've already surmised that the NVIDIA GeForce 8800 GT 512MiB presents a solid case for a graphics card retailing at around £170 for a default-clocked model.

Partners have been given considerable license to engage it releasing pre-overclocked versions. Inno3D has done just that with its Overclock model, pushing default 600/1500/1800MHz frequencies up to 702/1674/2000 once flashed with the supplied BIOS. Users not wishing to push the card right to the limit will make do with 650/1500/1900MHz clocks, though. What's more, there's only a slight price premium for this SKU, and it still ships with the single-slot-taking reference cooler.

The card benchmarks well, as you would expect, and the bundle, whilst not up to the deluxe levels of, say, ASUS, is adequate enough.

Overall impressions remain positive, though, thanks to decent performance and whisper-quiet operation. You'd be remiss on not putting it on your upgrading short-list.


HEXUS Awards
HEXUS acknowledges that the Inno3D GeForce 8800 GT 512MiB Overclock is a solid gaming card that passed our tests without failure. Decent performance and a not-so-exorbitant price-tag is enough for it to garner a recommendation.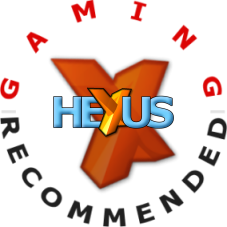 Inno3D GeForce 8800 GT 512MiB Overclock
HEXUS Where2Buy
The Inno3D GeForce 8800 GT 512MiB Overclock can be currently purchased for £182 here.


HEXUS Right2Reply
At HEXUS.net, we invite the companies whose products we test to comment on our articles. If any the companies' representatives choose to do so, we'll publish their responses here verbatim.


HEXUS related reading
HEXUS.net - HEXUS.reviews :: AMD Radeon HD 3870: the new midrange DX10 king?
HEXUS.net - HEXUS.reviews :: AMD Radeon HD 2900 XT
HEXUS.net - HEXUS.reviews :: AMD Radeon HD 2900 Pro 512MiB
HEXUS.net - HEXUS.reviews :: ASUS vs ASUS: GeForce 8800 Ultra vs Radeon HD 2900 XT
HEXUS.net - HEXUS.reviews :: Sapphire X1950 Pro Dual 1GiB
HEXUS.net - HEXUS.reviews :: NVIDIA GeForce 8800 Ultra 768MiB
HEXUS.net - HEXUS.reviews :: Sapphire X1950 Pro Dual 1GiB
HEXUS.net - HEXUS.reviews :: Architectural underpinnings of the 2900 XT