Multitasking performance
We've established that the tri-core Phenom X3 9750 isn't quite able to compete with Intel's Core 2 Duo E8200 when it comes to multithreaded performance or low-resolution gaming. Now, let's take a look at some multitasking scenarios. In theory, the Phenom X3 8750, with extra core in hand, should leave Intel's Core 2 Duo E8200 in its wake.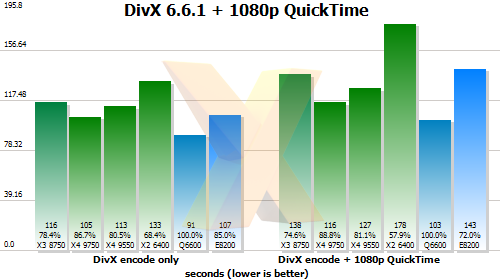 The first test was to carry out DivX encoding whilst playing a 1080p QuickTime video. The above graph shows two sets of results; on the left, DivX encoding on its own and on the right, DivX encoding with QuickTime playing a 1080p video.
The results show that the Phenom X3 8750 places exactly where you'd expect it - midway between the X2 6400 and X4 9750. When handling both workloads simultaneously, the Phenom X3 8750 is able to edge ahead of Intel's Core 2 Duo E8200, albeit marginally.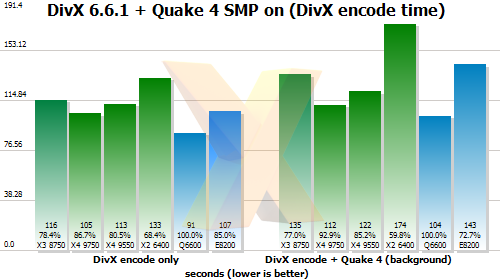 Similar to the previous test, we then ran the same DivX encode with Quake 4 running in the background. The Phenom X3 8750 once again managed to pull ahead of the Core 2 Duo E8200 when handling multiple workloads. That third core does have its uses.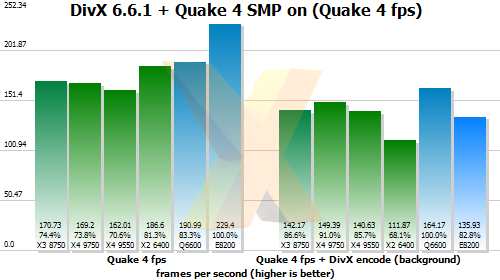 Switching things around, we brought Quake 4 forward and ran the DivX encode in the background. This time around, the Phenom X3 8750 manages to excel itself and ousts both the Intel Core 2 Duo E8200 and quad-core Phenom X4 9550. Every processor other than the older dual-core X2 6400+ were able to provide a smooth gaming experience.
AMD's Phenom X3 8750 is narrowly able to best Intel's Core 2 Duo E8200 when concurrent workloads are the order of the day. However, the performance advantage provided by the extra core is minimal.