Dell has today released a new XPS all-in-one computer system, available in Asia-Pacific initially and throughout the rest of the world in the coming weeks. The new model is the Dell XPS One 27. The 27 in the name denotes the screen size of this model; 27 inches diagonally.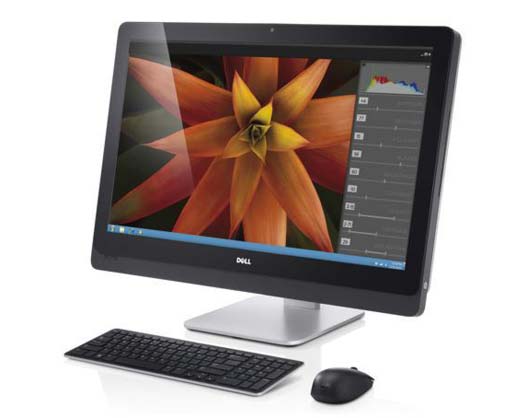 The Dell XPS One 27 system is based upon an Intel Ivy Bridge i5 or i7 processor, 1 TB HDD or more, 4GB of RAM or more, GeForce 640M graphics (Kepler), DVD+/-RW (optional Blu-ray drive), USB 3 sockets, 802.11 a/b/g/n. The big feature of this system is, of course, the large integrated display at 27 inches and a resolution of 2560 x1440 pixels.
The system has a starting price in the region of $US 1,399 which is still reasonable compared to iMac prices starting at $US 1,699 for the 27" models. However some PC alternatives, like the HP Omni 27 have cheaper starting points ($US 1,200), though their spec level is significantly lower, except for screen size. The styling of the XPS system is quite derivative of the iMac but in more sober shades. The screen is not touch sensitive and currently the machine comes with Windows 7 Home Premium installed.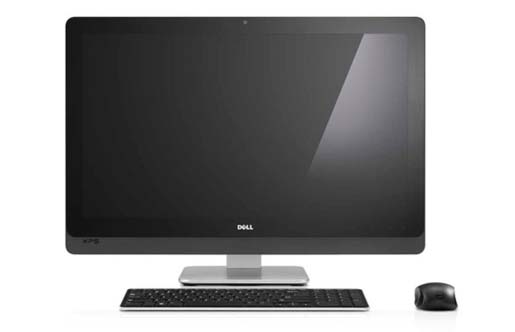 PCMag.com have already had their hands on this new Dell all-in-one and have a preliminary review of the system uploaded today. Their conclusion is that this system contains all the essential features and performs well within a compact (for 27") stylish chassis. The system is their new Editor's Choice for high end all-in-one. The XPS One 27 has respectable gaming performance according to PCMag "the new Nvidia GeForce GT 640M GPU helps the XPS One gain playable scores on Crysis (70 fps) and Lost Planet 2 (46 fps) at medium settings" Though the iMac's Radeon HD 6970 is superior for 3D speed. Tests showed that having a newest generation i7 processor gave the Dell XPS One 27 the best benchmark scores for number crunching CPU intensive tasks like Photoshop filters and video transcoding.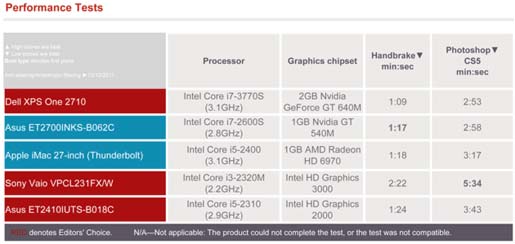 Perfromance tests from PCMag review of Dell XPS One 2710