Between the iPhone, iPad and Magic Trackpad, Apple has been doing its best to make touch-controls the de facto way of interacting with our devices. However, the company's desktops have remained largely unaffected. According to a patent filing earlier this year, though, the iMac could soon be joining the touchscreen party.
The filing is actually for a system that detects when the orientation of the computer changes and automatically transitions into a touch interface. When the screen is positioned in the normal, upright position, the user will interact with OSX in the normal way using a keyboard and mouse. However, when the screen is grabbed and tipped backwards, it will automatically switch into a touch-ready interface.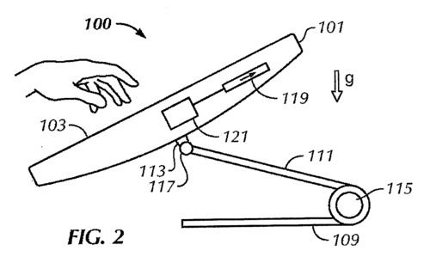 The most interesting point, though, is what happens on screen when the system makes this transition. According to the patent, the computer will switch to iOS - or an iOS-like environment - that is more suited to a touch-based interface than OSX. This is Apple's attempt to deal with the perennial problem of trying to use a desktop OS designed for a highly precise mouse with a relatively inaccurate finger.
The remainder of the patent - which is fairly wide-reaching, as patents often are - deals with the mechanics of the stand and hinge, the detection of the orientation and the way in which the screen will detect touch inputs.
While this could just be an attempt by Apple to secure an idea, the patent may well provide hints as to the direction that the company will take with its next iMac. If so, Apple may have finally solved the conundrum of mating a desktop OS with a touch UI that so many other manufacturers have struggled with.