12-thread monster with HD 5870 in situ
Fancy a high-end PC but don't have the room to house a mid-tower chassis? Shuttle may just have the answer with the XPC J3 5800G.

Built around the Intel X58 chipset, Shuttle's SX58J3 barebones chassis, not much larger than a shoebox, serves as a base for the dinky yet powerful system. The box of tricks ships with a proprietary motherboard that features a '3+1' DDR3 memory arrangement (triple-channel, unless all four DIMMs are populated, where it reverts to dual channel), eSATA, eight USB ports, high-definition audio, dual Gigabit LAN and an 80PLUS Bronze-certified 500W PSU that's stout enough to power a GeForce GTX 480 card and other tasty kit.

An online configurator prices up a basic Shuttle-built 5800G for $1,899, which gets you a Core i7 920 chip, 4GB DDR3 memory, 500GB hard-drive, DVD-ReWriter and GeForce 9500 GT video card.

But going to town on the configurator brings truly high-end kit into play. How about the J3 5800G equipped with a Core i7 980X six-core CPU, 8GB RAM, 256GB SSD, and a GeForce GTX 480 GPU? A veritable snip at $4,800.

We know that the SX58J3 can underpin a capable system because we've been running one in the labs for a week now, equipped with the 980X CPU, 6GB of Corsair DDR3 RAM, and Radeon HD 5870 card.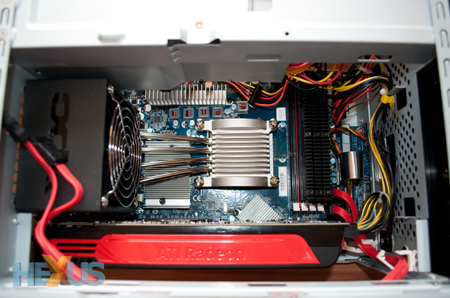 Outfitted with a Radeon HD 5850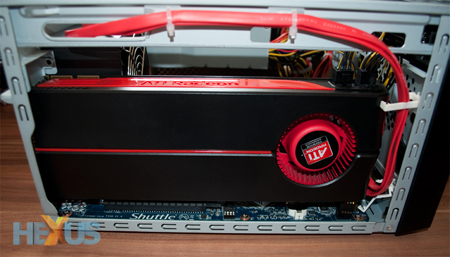 Throwing a Radeon HD 5870 into the mix. It fits, just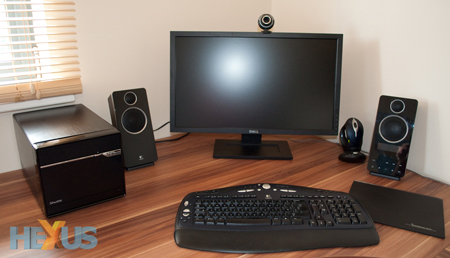 Not so big, is it?
Stay tuned for the full review next week.