Phenom breathes life into Alienware Aurora
If you thought that Alienware's Area 51 systems, based on Intel's Core 2 Extreme processors, signalled the end of AMD-based Aurora systems, you were wrong.
Today, Alienware has revamped its AMD-Aurora offering by equipping the system with AMD's best quad-core processor, the Phenom X4 9850 Black Edition. If that wasn't enough, Alienware has also thrown in dual Radeon 3870 X2 GPUs.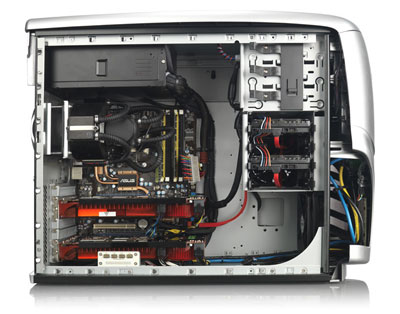 As shown by the Alienware-provided image above, the new Aurora follows the familiar Alienware-trend. That is, it looks monstrous in every way.
In its basic form, the system costs just $999. That however will only get you a 2.7GHz Athlon X2 processor and a measly 2GiB of RAM. We can't see many people phoning Alienware to place an order for one of those.
Start customising however, and this liquid-cooled machine doesn't just look monstrous, it becomes monstrous. You can throw an AMD Phenom X4 9850 Black Edition into the mix. Along with a Radeon HD 3870 X2, and of course the essential "Alienware AlienFX System Lighting". Get ahead of yourself however and you'll soon find your Aurora build costing near $4,000. That's without a display, by the way.
There's no news of a UK release just yet, but isn't nice just to see a high-end AMD-based system available once again from Alienware? Keep your eyes peeled for our review of the AMD Phenom X4 9850 Black Edition processor, it'll be coming shortly.
Official Aurora product page: Alienware.com