Toshiba had promised some hybrid HDD drives and showed them off last week at the Flash Memory Summit (FMS) 2012 last week in Santa Clara, California. The Japanese electronics giant is third place in the HDD market behind Seagate and Western Digital with sales accounting for eight per cent of the market and with only 2.5" HDDs in its product range.
Seagate was the pioneer in Hybrid HDD/SSD technology and was first to market with the Seagate Momentus XT range. However since launch these hybrid drives have failed to set the market alight because they don't quite offer the best of both worlds at the right price, as promised. A number of factors have caused this; falling prices of dedicated SSD drives (i.e. competitive pricing), cache SSD solutions, reliability problems, too low a ratio of flash memory to HDD space. Nevertheless Toshiba has decided to enter the market and perhaps will be able to hit the price/performance sweet spot more accurately, learning from Seagate's mistakes.
The new Toshiba range are 9.5mm units so can't be used within a sleek Ultrabooks or similar chassis. The 1TB top capacity beats the Seagate Momentus XT 750GB top end model but has the same amount of flash NAND (8GB), also the HDD component is only a 5400RPM part compared to the Momentus XT 7200 RPM spinning disc.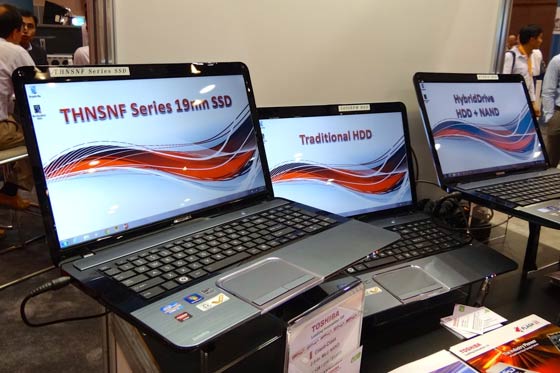 Booting Windows 7 with the new Toshiba drive was very fast, taking up only 12 seconds, just behind the SSD equipped notebook on Toshiba's stand at the FMS. No independent reviewer has got their hands on these drives and Toshiba has only let loose a smattering of PCMark Vantage figures of the drive's performance as follows; 80MB/s in video editing and a total point score of 16,000. These figures compare well with the newest Seagate Momentus XT 750 GB which got in a PCMark Vantage benchmark of 14,580 and took 25 seconds to boot Windows 7, though the Seagate drive was in a slower system (i3 vs i7). These figures we have from different sources are not so usefully comparable right now.
Most interesting is how these new hybrid drives will be priced by Toshiba. If there's not too much of a premium over traditional 2.5" HDDs and you only have space in your machine for one 2.5" drive it might be a very sweet option for an HDD upgrade; where you want a balance of speed and capacity biased towards the capacity side of things.