PRAM or PCM (phase-change memory), is a relatively new type of non-volatile memory we may be hearing a lot more from soon. The technology, unlike flash memory which relies on trapping electrons, actually involves changing the state of the underlying material, adjusting its electrical properties.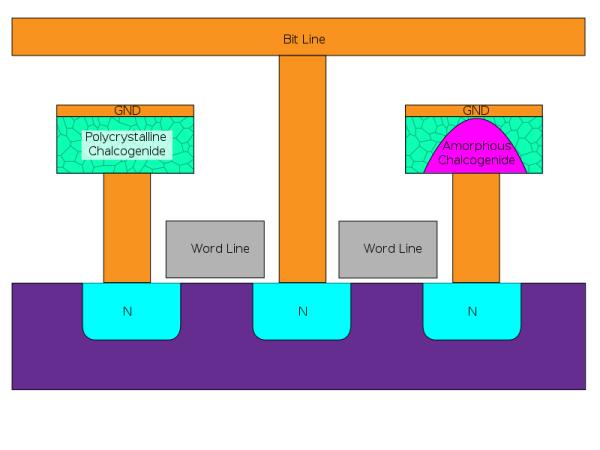 PRAM has a few distinct advantages over flash memory that make it a potential replacement in future smartphones and Solid State Drives.
Firstly, the technology allows direct writes on the bit level, avoiding the need to erase entire pages. This enables both incredible write speeds and, removes the need for DRAM buffering (in the case of low-end devices, potentially the need for DRAM at all). This lack of a wait state and removal of a buffer makes the memory ideal for write intensive and power-loss scenarios.
Secondly, the technology's endurance and immunity to radiation is much greater than that of flash memory. Whilst with modern flash, we're perhaps looking at a maximum of 5,000 writes per sector, PRAM has an endurance of around one hundred million writes. Likewise, as the technology is based on adjustments to physical states, it has improved radiation immunity and a generally improved long-term lifespan, retaining data for around 300 years.
PRAM does have an Achilles Heel, however; it is not very tolerant of extreme heat, to the point that it's not possible to program the chip prior to system integration, as the soldering process would destroy any stored data.
It appears, however, that for Micron, amongst others, the pros outweigh the con, as the firm has announced the first mass-market 1Gb (128MB) PRAM chip, suitable for integration into low-end smartphones. Despite being a first-generation 45nm device, the chip is already capable of transfers of up to 400MB/s.
Micron will have to watch out, however, as Samsung had already demonstrated an 8Gb (1GB) 20nm chip, back in February and, can't be too far from a mass-market roll-out.
This writer though, is perhaps a little more interested in the future of MRAM, a technology which could potentially offer the power consumption and performance of SRAM, the cost and density of DRAM and the non-volatility of flash with no write endurance limitations, a true universal memory. Sadly the technology is still waiting for someone to risk playing around with it on a fabrication process lower than 180nm, stonewalling its progress.