Researchers from KIT, Germany, the INP, France and Chiba University, Japan have developed a new kind of magnetic metal-organic memory. The headlining feature of this new magnetic memory is that it can store one bit of information per molecule. The full research article entitled "Robust spin crossover and memristance across a single molecule" was published in Nature magazine on Tuesday.
Current tech is limited to one bit per three million magnetic atoms
Using electrical pulses the metal-organic molecules can be individually switched between a conductive, magnetic state and a low-conductive, non-magnetic state. Current hard disk technology is relatively bulky, storing one bit of information on roughly three million magnetic atoms.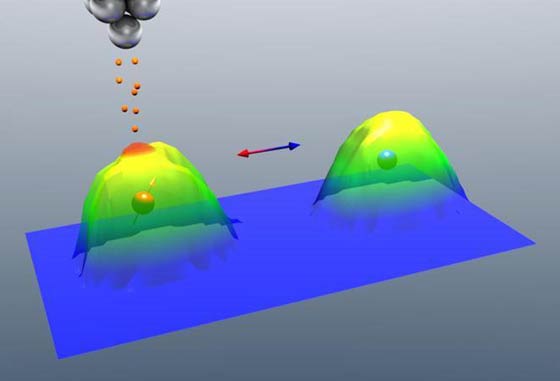 "Using a scanning tunneling microscope tip, defined electricity pulses were applied to the molecule,
which switches between different magnetic states"
Data density thermal problems cast aside
Manufacturers of hard disks are finding it difficult to make higher data densities due to the superparamagnetic effect which means that smaller magnetic memory crystals are more susceptible to data loss due to thermal switching. The new magnetic metal-organic memory is more reliable because the writing process is purely electric, thermal switching shouldn't be an issue. Toshio Miyamachi, one of the researchers at KIT explains "We chose another approach and placed a single magnetic iron atom in the center of an organic molecule consisting of 51 atoms. The organic shell protects the information stored in the central atom."
Using a scanning tunnelling microscope
The machines used for the experiments to write the data are quite a bit beyond what is in your hard disk today. However the study "reports the fundamentals and shows the principle feasibility and advantages of memories consisting of spin crossover molecules." says the KIT press release. The reading of the data from the molecules should be relatively easy; "the magnetic state of the molecule can be determined easily by a simple resistance measurement".
We looked at the trend in hard drive densities a few weeks ago here at HEXUS with forecasts up to 2016. This new one bit per molecule magnetic metal-organic memory could be the successor to PRM and HAMR technology and give the forecast charts a real kick in the not-too-distant future. Also I can't help thinking of the espionage possibilities this tiny memory storage technology may bring…