Every time Microsoft has released a new version of Windows, it has updated CHKDSK, even if it went unnoticed. Each time, CHKDSK became faster, however, with hard disk sizes and file counts doubling every 18 months, our friendly disk scanner and repair system has fallen behind, becoming relatively slower and slower. In Windows Vista, Microsoft introduced 'self-healing' for NTFS, enabling the system to perform immediate online repairs when certain types of file-system corruption occurred, avoiding the need for a scan altogether.
Whilst becoming less frequent, with improvements in hard disk reliability and self-repairing, disk errors do still occur and when they do, users can now face hours of disk scanning and repairing at boot-up, rendering their systems unavailable during this time, which, for something like a server, is unacceptable.

Microsoft thinks it has the answer with Windows 8 and, aside from the usual speed enhancements that are made with each new edition of Windows, the firm has redesigned the way CHKDSK works by moving away from the black and white, healthy or unhealthy disk states to providing states for healthy, spot verification needed, online scan needed and spot fix needed.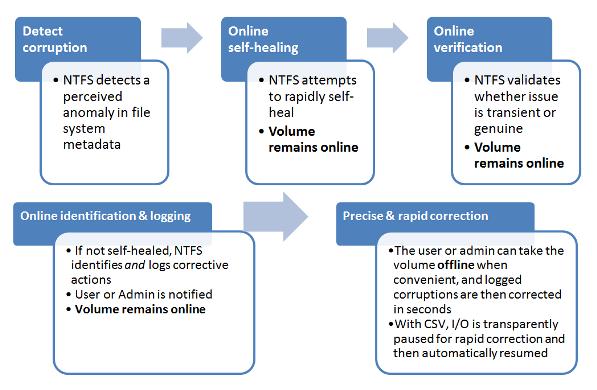 In essence, the system now detects errors in-flight and, as usual, attempts to self-heal, with Microsoft boosting the number of error types that the Windows 8 CHKDSK can automatically handle. Failing to repair, CHKDSK performs a further 'spot scan' to identify if the error is related to a memory glitch or the hard-disk itself, ensuring that corrupted memory doesn't cause the system to kick off any unnecessary scans. After confirming that the error is real, an online system scan is started in the background, typically ran during moments of CPU idleness, identifying points of error, logging corrective measures and informing the user/admin.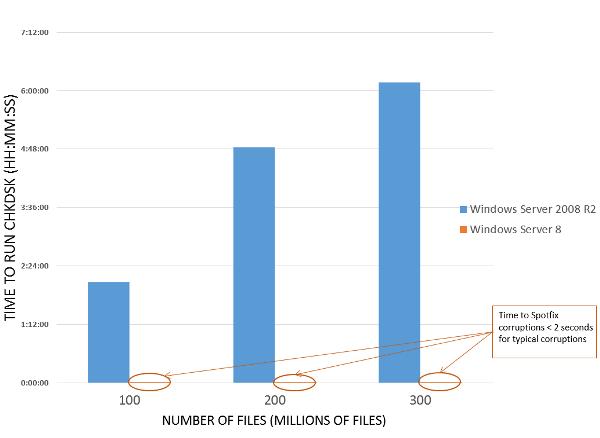 Thanks to the online detection of errors and their solutions, when an offline CHKDSK 'spotfix' is finally run, the system focuses only on damaged sections, keeping repair times proportional to the level of damage, typically taking only a few seconds to repair. With servers utilising cluster shared volumes, downtime itself can be eliminated, with the new ReFS file-system thanks to its RAID and ACID-like functionality, the entire process can be avoided.
Not bad if we do say so ourselves, Microsoft. For more details, visit Microsoft's blog.