OCZ just can't seem to stop its relentless launch of new solid-state drives (SSDs). Earlier this week, the company introduced its latest offering in the form of the Onyx Series, a supposedly "cost-efficient SSD" that OCZ hopes will become a viable alternative to your traditional hard drive.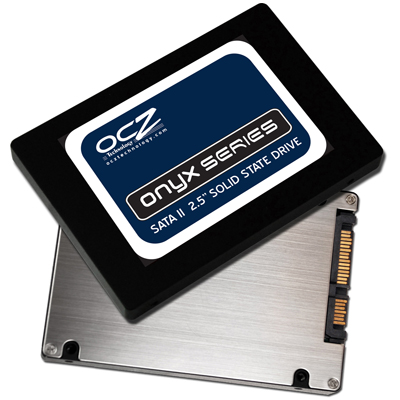 The 2.5in Onyx SSD, pictured above, makes use of Multi-Level Cell (MLC) Flash memory and a 64MB onboard cache to deliver read and write speeds of up to 125MB/s and 70MB/s, respectively.
There's no mention of any specific controller, but it's far from the quickest SSD we've ever seen, and it's almost one of the smallest in capacity offering just 32GB of storage. However, considering OCZ's target market of users in need of a boot drive for "mobile PCs and netbooks", the Onyx SSD might fit the bill should performance matter more than capacity.
Aiming at the bottom end of the SSD market, OCZ needs to beat its existing Solid 2 line of value-orientated SSDs in terms of price, and does so comfortably. We're told to expect the drive at US retail priced under the $100 mark, and we're already seeing it appear at UK stores priced at around £75.
That, by our reckoning, makes this one of the cheapest 32GB SSDs currently on the market.