Toshiba has today launched four new 1.8in hard drives designed for use in portable media devices. The MK1634GAL family, available in 60GB, 80GB, 120GB and 160GB capacities, weighs less than 48 grams and measures approximately 5mm thick.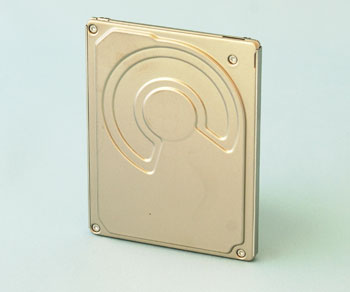 Toshiba's largest model is the industry's first to offer 160GB of storage on a single-platter 1.8in drive. The result is an areal density of up to 467 gigabits-per-square-inch. According to Toshiba, it'll keep noise levels at 14 decibels when idle and only 15 decibels when in operation, making it ideal for handheld devices.
All four drives are shipping now, and the largest 160GB model explains how Apple managed to yesterday up the maximum capacity of its revised iPod classic.
Each drive's complete specification, as detailed by Toshiba, is provided below.
Model Number
MK1634GAL
MK1234GAL
MK8034GAL
MK6034GAL
Capacity
160GB
120GB
80GB
60GB
Number of disks
1
Number of heads
2
1
Average seek time
15 ms
Interface
PATA
Interface speed
100MB/s
Rotational speed
4,200 rpm
External dimensions
(W)54.0 mm x (D)71.0 mm x (H)5.0 mm
Weight
48 g (max)
Energy consumption efficiency
0.0019
0.0025
0.0038
0.0050
Acoustics
Idle
14dB
Seek
15dB
Vibration resistance
Operating
19.6 m/s2 , 2.0G (15-500Hz)
Non-operating
49 m/s2 , 5.0G (15-500Hz)
Shock resistance
Operating
5,880 m/s2 (600G , 2ms half sine wave)
Non-operating
14,700 m/s2 (1,500G , 1ms half sine wave)