Yesterday Microsoft opened up two forums with the aim of gathering suggestions of ways to improve its OneNote application. It is seeking ideas for improvements, tweaks and features from both OneNote's user base and developers. Suggestions posted can be voted up or down and commented upon by others.
In a blog post explaining the move the OneNote team wrote, "The Microsoft Answers forums have long been a great resource for troubleshooting problems, but many of you have wondered how to send us suggestions and requests. Today, we're excited to announce a new and easier way to send us suggestions on how we can improve OneNote—the OneNote Feedback & Suggestions website".
As mentioned in the introductory paragraph both users and developers get separate forums to engage in. The forum allows participants to see previous suggestions, vote for your favourites and also enter your own suggestions. Every registered user at the forums gets 10 voting points to vote with as they see fit. To keep contributors on topic and from meandering onto other issues Microsoft asks posters to stick to the three 'W's and consider:
What you're asking for
Why it's important to you
Where you want it (that is, does your request apply to every version of OneNote, or is it specific to a particular device, such as your Windows PC or iPad?)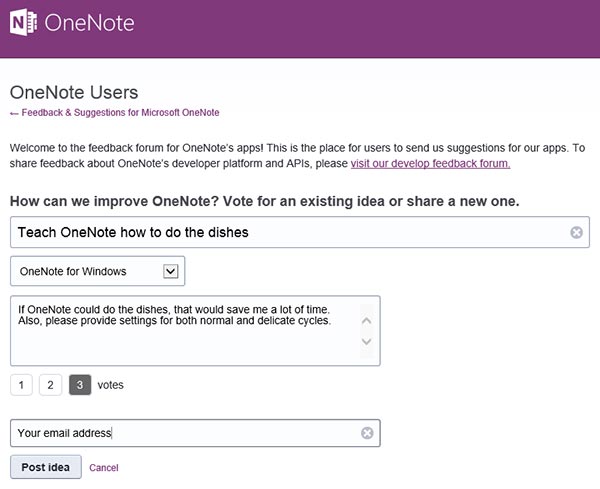 So if you are a OneNote user or developer and want to help change the program for the better you know what to do.
OneNote's new web clipping feature
Meanwhile Microsoft isn't sitting on its hands waiting for the suggestion boxes to fill up before implementing improvements in the OneNote app. Earlier this week it introduced a new easy web content sharing clipping system.
To use the new clipping system users simply email the web URL to me@onenote.com, then Microsoft will "clip a screenshot of the webpage along with the email's contents into your OneNote notebook". That's an easy and quick way to share if you add the email address to your smartphone contacts list, for example. Emails with multiple URLS will skip the web clipping content and just save the URL list Microsoft says.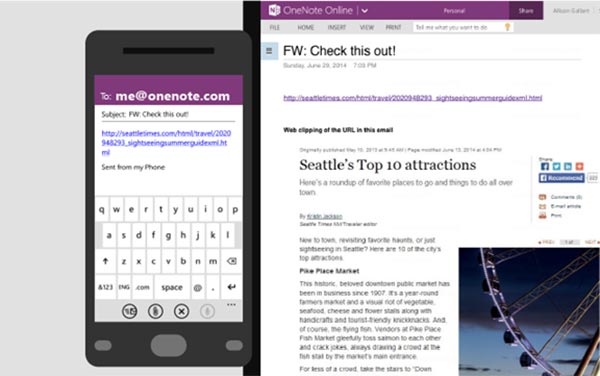 To set up your me@onenote.com functionality you must first go to https://www.onenote.com/emailsettings and pick the email address(es) you'll use to send emails to me@onenote.com.