Installing or upgrading to Windows 8 will be significantly faster. Microsoft Windows deployment marketing manager Michael Niehaus shared some figures from the Tech.Ed Australia 2012 Deploying Windows 8 session today illustrating this very fact. Apparently the enhanced deployment times don't come from Windows 8 itself but from the development tools including Microsoft's Windows pre-installation environment (PE) and the user state migration tool (USMT).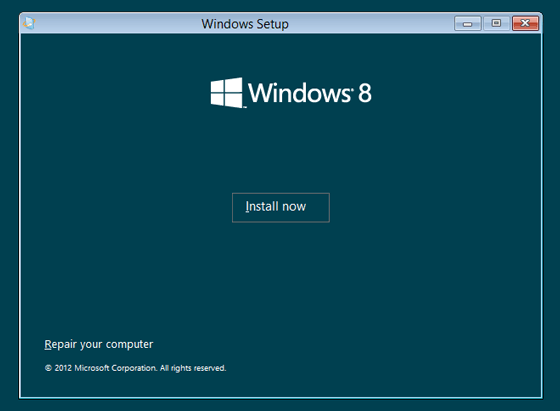 Windows 8 is designed to work on the same type of hardware compatible with Windows 7. Actually Windows 8 has "lower real-world hardware requirements" than Windows 7 (this was also true in the Windows Vista to 7 transition). According to ZDNet the Windows 7 install is about 8GB when expanded to disk compared to Windows 8's 7.76GB. This undoubtedly helps speed along the install but is only a small part of the reason for the deployment speed increase.
Windows OS upgrade and install times
| | | |
| --- | --- | --- |
| | Windows 7 | Windows 8 |
| Clean install | 20 mins | 10 mins |
| Upgrade from prior version | 30 mins | 15 mins |
| Install size | 8GB | 7.76GB |
Mr Neihaus added that if your machine has lots of data and apps installed the upgrade time difference will be even more significant. This would be the case for most people interested in upgrading. No figures were shown for this as user apps and data are hugely variable but Neihaus said "It's not going to be the same multi-hour process as the Windows Vista to Windows 7 process was." Microsoft's Windows pre-installation environment (PE) and the user state migration tool (USMT 4.0) are the tools behind the deployment acceleration. "There have been some fundamental changes to the upgrade process that will improve the upgrade time regardless of how much you throw at it," Mr Neihaus explained. He added that "As long as you don't have any software or driver compatibility issues then the upgrade process should be pretty smooth going from Windows 7 to Windows 8".

The improvements are great to reduce the upgrading or fresh install chore for computer enthusiasts. Microsoft blogged very recently about the Windows 8 upgrading experience, announcing that you need "Never Clean Install Again". I hope HEXUS users have the same wonderful experience if they choose to upgrade to Windows 8.