A new post has appeared on the Microsoft Office blog discussing the new touch friendly features of the recently introduced Office Web Apps. Microsoft is trying to make the office productivity software suite work comfortably for people using touch screen equipped devices and browsers including IE on Windows 8 and mobile Safari on iOS.
Microsoft aims to make the touch control intuitive so users can get up to speed quickly without learning new ways to interact with the interface. Also many elements of the office interface have been spaced out more to allow fat fingers to select the options they actually intend to choose. Four key goals were set to design the Office Web Apps for touch;
Users should be up and running with touch-enabled Office Web Apps right away
Users don't need to learn to navigate a new user interface
Users can easily move back and forth between touch and mouse/keyboard experiences
The full feature set of the Office Web Apps, including editing tools, must be enabled on touch devices like tablets and touch monitors.
Renu Devi, writing on the Office Blog says that "Nothing is more frustrating than touching an unintended control in the user interface." Comparing the preciseness of a keyboard and mouse input to fumbling fingers she says Microsoft has worked to make finger input users more confident by;
Making the touch control buttons in the apps control interface larger
Spacing out the control buttons
Using simple intuitive touch controls people are used to on their smartphones to scroll, browse, zoom and type
Not forgetting that some tablet users will also use mouse and keyboard input sometimes – the interface can be toggled with a touch-mode button
A lot of effort seems to have been put into the aspects of editing that require precise input. Inserting the text editing cursor is made more precise by a circular "gripper" held by your finger below the insertion caret. (See below). Text selection uses the same "gripper" controls and context menu options, usually a right-mouse-click on your PC, work with a simple tap of a selection. To show a context menu, in an editing window without a selection, a simple press and hold is required.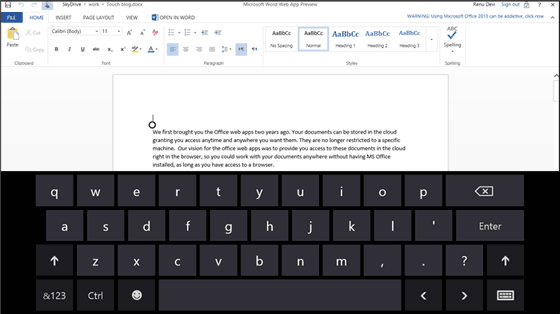 Office Web Apps is intelligent enough to know what kind of device you are using and therefore serve you the appropriate default interface. "When you are on a touch device, Office Web Apps will display the fixed user interface in touch mode by default . You can change this mode to use the user interface with a mouse by toggling the 'Touch mode' button."

The interface enhancements for touch seem to have been done thoughtfully and will not hinder users who don't use touch interfaces. Also the interface interaction hasn't gone overboard with lots of new touch and gesture commands which would need to be learned. Microsoft seems to have achieved a good functional balance for people who edit documents across devices.