Yesterday, Microsoft released details of new, 'Refresh' and 'Reset' features for Windows 8 on its blog site. The new features enable a complete reinstall of the operating system, back to factory settings, with 'Refresh' your personal data, Metro apps and settings are left intact and reinstalled after factory settings have been restored, 'Reset' performs a full wipe.
Many power users believe that over time Windows performance degrades or that the kernel can corrupt, often leaving a full format and reinstall as the only open. The new 'Refresh' and 'Reset' capabilities are Microsoft's answer to these users, streamlining the process of restoring a PC to a good, working condition, though, this is an answer likely brought about by the wish for Windows 8 to run on the tablet platform, with Microsoft feeling the need to have what are essentially 'Factory Reset' capabilities, similar to those observed on iOS or Android, a simplified and consistent approach to restoring the factory state.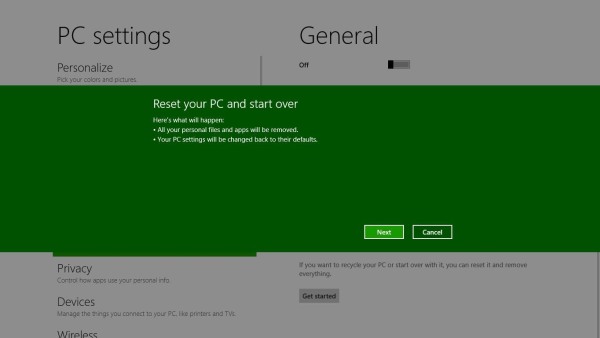 A 'Refresh' will reinstall core operating system files, however leaves personal data, Metro style apps and settings intact. The feature works by first moving all data, apps and settings to a separate location on the hard disk, it then re-images the rest of the disk, avoiding fragmentation and ensuring a complete reinstall, to then finally restore all the data, apps and settings that had been set aside.
What's more is Microsoft enables users to define their own image to be used in the refresh, allowing everyone a chance to create a working copy that also includes important non-Metro programs for quick restoration. It's worth noting that whilst core settings are backed-up, a refresh doesn't keep settings for elements such as file-type associations, display settings or Windows Firewall settings, as these are often the cause of problems.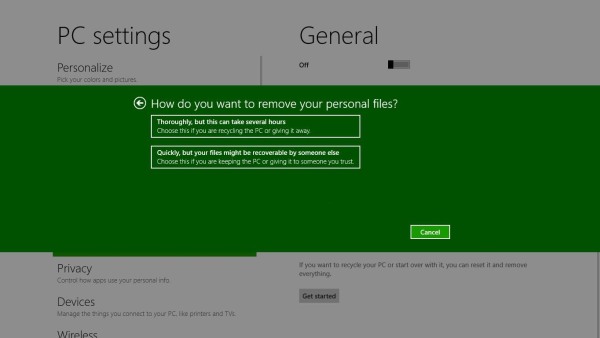 A 'Reset' performs much like a 'Refresh' however is even simpler and will re-image the system with a new installation, completely erasing old data, apps and settings. An interesting feature Microsoft is offering, however, is the ability to write a single pass of random data to the hard disk, ensuring that existing data is completely erased and unrecoverable by the average user. After a random write of data, someone would need to remove the hard disk, crack it open and place it in prohibitively expensive specialised equipment to retrieve files; this feature is useful for those wishing to resell or re-purpose their computers.
In this writer's opinion, despite reservations of the Metro UI, 'Refresh' and 'Reset' are another great and welcome addition to the upcoming Windows 8 operating system, however, what are our reader's thoughts?