Microsoft today revealed that a final release of its Security Essentials software would be made available to the public in "the coming weeks".
Security Essentials, previously codenamed Morro and launched as a beta in June, is a freeware anti-malware solution designed to provide users with real-time protection.
Although Microsoft had previously suggested that the final release would be available later this year, the software giant today hinted at a launch in time for Windows 7 on October 22nd. In an email sent to participating beta users, Microsoft stated that "the final version of Microsoft Security Essentials will be released to the public in the coming weeks", adding that existing beta users should upgrade to the latest version (1.0.1500.0).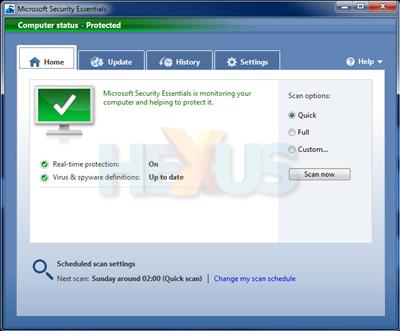 To find out more about Microsoft's anti-malware solution, check out our hands-on preview. If you're a participating beta user wanting to upgrade to the latest version, please refer to Microsoft's announcement below.
Dear Beta User,

Thank you for participating in the Microsoft® Security Essentials Beta. Your participation has been instrumental to ensuring the best possible product release quality.

The final version of Microsoft Security Essentials will be released to the public in the coming weeks. If you are running the older version of the beta (1.0.1407.0), we encourage you to upgrade to a newer version of the beta (1.0.1500.0). To ensure a smoothest possible experience, please follow one of these options:

· Click on the 'Upgrade Now' button on the Microsoft Security Essentials Home tab. OR

· Select 'Upgrade Microsoft Security Essentials' under the Help drop-down menu

Thank you again for your participation in the Microsoft Security Essentials Beta!

Best regards,

Microsoft Security Essentials Team